February 20, 2019
Senthil Ganesh Karuppasamy Song Lyrics | Ange Idi Mulanguthu
Senthil Ganesh Karuppasamy Song Lyrics | Ange Idi Mulanguthu: Ange Idi Mulanguthu is a devotional folk song about Karuppasamy, A Kaval Deivam [Protector] Demi God. Karuppu Sami is one of the regional Tamil Hindu male deities popular among the rural areas of Tamil Nadu and parts of Kerala and also worshiped in Trinidad and Tobago, Guyana, Suriname, Guadeloupe, and Martinique under the name Dee Baba, Sangani Baba, Maangadu Karupu or Sangili Karuppar.
Senthil Ganesh sang this song in Vijay TV super singer 6 thus making the song popular. Folk artist Mr Navaneetha Krishnan and Vijayalakshmi Navaneetha Krishnan were special guest in that show. Senthil Ganesh's rendition and performance was mind blowing.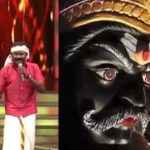 Senthil Ganesh Karuppasamy Song Lyrics | Ange Idi Mulanguthu
Song: Ange Idi Mulanguthu | Karuppasamy Song
Singer: Various Artists | Senthil Ganesh
Lyrics: Folk
Genre: Folk / Devotional
Language: Tamil
Check out 'Senthil Ganesh Karuppasamy Song' Lyrics here..
Petraal Piraminaththi…ee…
Perittaal Maariyennu..
Valathaanda Bairavithaanda
Valathaanda Bairavithaanda Karuppayya
Nee Pirandhaai Malayalam
Pirandhaai Malayalam Karuppayya
Nee Pearugondaai
Eenaadu..
Irundhaai Malayalam
Irundhaai Malayalam
Irundhaai Malayalam Karuppayya
Nee Irundhaai Eenaadu
Yen Vandathuraiya Vanda Thuraiyaa Vananga Mudiye
Valakali Vallatthu Pon Karuppu
En Kotta Karuppayyaa..
Maamundi Karuppaya Vaada Karuppyya
Laavati Karuppayya Sandhana Karuppayya
Sankaralinga Karuppayya
Enga Maaligapaara Karuppayya..
Nee Vaikkum Kaalgalakku Saamy Kaalagalukku
Nerinji Poo Salladama Saami Salladama
Etti Vaikkum Kaalgalakku
Inikkum Poo Salladama Salladama Salladama
Ayya Otti Vaikkum Otti Vaikkum Otti Vaikkum
Kaalgalakku Saami Kaalagalakku
Udhiri Poo Salladama Chaami Salladama
Otti Vaikkum Kaalgalakku Udhiri Poo Challadama Challadama Challadama
Sethu Padhinaadu Sethu Padhinaadu
Sivagnagai Nannaadu Sivagnagai Nannaadu
En Naara Parakaadha…
Naara Parakaadha Naara Parakkaadha
Naapathettu Madayaanda Raamanaadu
Entha Naattu Ellayila
Endha Naattu Ellayila Karuppayya
Neenga Kaavalukku Irundhaalum
Ipppo Indha Neram.. Ippo Indha Neram Ippo Indha Neram
Neenga Varanum Karuppayya
Neenga Vanthu Namma Ooru Makkalakku
Arulvaakku Nalvaakku
Selvaaku Solvaakku
Neenga Tharanum Karuppayya
Tharavenum Karuppayya
Ange Idi Muzhangudhu
Karuppasamy Thanga Kalasam Minnudhu
Ange Idi Muzhangudhu
Karuppasamy Thanga Kalasam Minnudhu
Hey Malayala Malayazhaga Maamadhura Kallazhaga..
Malayala Malayalagan Maamadhura Kallalagan
Silaiyaaga Endhan Munne Seeri Paayaraanda
Ange Idi Muzhangudhu Karuppasamy Thanga Kalasam Minnudhu..
Ooru Seyikka Venum Ulla Mazhai Peyya Venum..
Ooru Seyikka Venum Ulla Mazhai Peyya Venum
Naadu Selikka Venum Nalla Mazhai Peyya Venum
Naadu Selikka Venum Nalla Mazhai Peyya Venum
Ange Idi Mulanguthu
Karuppasamy Thanga Kalasam Minnudhu
Ange Idi Molanguthu
Karuppasamy Thanga Kalasam Minnudhu
Ange Idi Muzhangudhu
Karuppasamy Thanga Kalasam Minnudhu
Ange Idi Muzhangudhu
Karuppasamy Thanga Kalasam Minnudhu
Karuppasamy Thanga Kalasam… Minnudhu
Comments
comments