July 1, 2019
Shaane Top Agavle Song Lyrics Video Released – Sinnga
Shaane Top Agavle Song Lyrics Video Released – Sinnga: Shaane Top Agavle is a Kannada song from an upcoming Movie Sinnga, directed by Vijay Kiran and produced by Uday K Mehta under the banner UKM Studios / Uday K Mehta Productions.
Sinnga features Chirranjeevi Sarja, Aditi Prabudeva, Tara, Ravishankar P, Shivaraj KR Pete, Aruna Balraj, B. Suersh, Kaddipudi Chandru and others. Kiran Hampapur is the Cinematographer, Ganesh Mallaiah is the Editor and Dialogues od this film were written by Raghu Niduvalli.
Shaane Top Agavle Song Lyrics were penned by lyricist Chethan Kumar of Bharjari fame. Chethan Kumar who is famous for writing intro songs for Kannada Top Actors is also a Director. He had written and directed three movies. Bahaddur [2014] his debut movie as director, followed by Bharjari [2017] and Bharaate [2018].
Some of the notable songs of Chethan Kumar includes 'Baite Baite' from Varadhanayaka, 'Auto Raja Auto 'Raja' from Auto Raja, 'I wanna sing a songu' from Sweety Nanna Jodi, 'Bossu Nam Bossu' from Bhajarangi, 'Starade', 'Subbalakshmi' from Bahaddur, 'Magariya' from Anjani Putra and recent sensation 'Yenammi Yenammi' from Ayogya' and others.
This song was composed by music director Dharma Vish. Shaane Top Agavle Song was rendered by one of the most happening playback singer in Kannada right now, Swaravijayi Vijay Prakash and additional vocals by Leone DSouza.
some of the important musicians involved in the song includes Guitars by Pharez, Mandolin by Ramesh, Solo Violin, Keyboard arrangements and programming by David Selvam, Kazoo and Pianica by Dharma Vish himself.
Shaane Top Agavle Song become super hit and Kannada audience are enjoying it. The song is getting good response in YouTube also. The  lyrics of the song with its rural mandya slang touch and Vijay Prakash's singing are the highlighst of the song.
Shaane Top Agavle Song Lyrics Video contains few images of the lead actors Chirranjeevi Sarja and Aditi Prabudeva. There are few clips of song making where we can see lead actors practicing the dance moves along with the crew.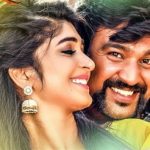 Shaane Top Agvale Song
Film: Sinnga [2019]
Music: Dharma Vish
Singer: Vijay Prakash
Lyrics: Chethan Kumar
Cast: Chirranjeevi Sarja, Aditi Prabudeva
Sinnga [2019] Kannada Movie Songs
Song: Shaane Top Agavle
Lyrics: Chethan Kumar
Singer: Vijay Prakash
Song: What A Beautifullu Hudugi
Lyrics: Kaviraj
Singers: Naveen Sajju, Meghana Raj
Song: Putta Putta Aase
Lyrics: Kaviraj
Singer: Anuradha Bhat
Search Terms & Keywords
#shaane top agavle #shaane top agavle lyrics #shane top agavle kannada song #shane top agavle nam hudugi song lyrics #shane top agavle nam hudugi kannada song #shane top agavle movie #shane top agavle movie name #sinnga #sinnga shaane top agavle #singa kannada movie
Comments
comments