December 25, 2018
Shrungarada Hongemara Song Lyrics Video Released | Yogaraj Bhat
Shrungarada Hongemara Song Lyrics Video Released | Yogaraj Bhat: Shrungarada Hongemara is a song from an upcoming 2019 Kannada movie Panchatantra [Panchathantra], written and directed by Yogaraj Bhat. The film was produced by Hariprasad Jayanna, Hemanth Paradkar and Yogaraj Bhat himself under the banner Yograj Cinemas, Jasp Productions and Purple Patch.
The video of this song starts with a dialogue between the lead characters.
The boy asks 'Naachkena?' [Are you feeling Shy?]
Girl replies with Hm
Boy says 'Naachke bidsodu henge antha internet alli nodidini. try maadla?'
[I have seen in internet, How to take away shyness, Shall I try?]
The girl complies with smile on her face and looking straight into the eyes of the guy.
The song opens with beautiful indoor setup with green backdrop of trees and a Girl in her white dress is sitting in a red sofa, in front of her  there is water reflecting the greenness of trees. The boy walks in and there comes the lines 'Chaligaalakke Yuva Jodigalige Becchaneya Udugore' which means 'A warm gift for Young couples in this winter.'
The highlight of the song is the art direction of Hosmane Murthy and Sugnaan's camera work. Imran Sardhariya has done his job. Yogaraj Bhat lyrics talks about lust that takes over love in the confused mind of young couples.
Panchatantra Kannada movie features Vihan Gowda of 1/4 KG Preeth fame, Sonal Monteiro, Akshara Gowda and others. DBeats is the music label of this movie. This song was composed by bhat's frequent collaborator music director V. Harikrishna with lyrics written by Yogaraj Bhat himself. Shrungarada Hongemara Song was rendered by Vijay Prakash.
Imran Sardhariya has Choreographed this song. Hosmane Murthy is the art director, Madhu Tumbakere is the editor and Sugnaan is the director of photography.
Watch Shrungarada Hongemara Song Lyrics Video and express your opinion here in our blog.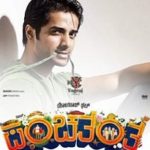 Shrungarada Hongemara Song Lyrics
Movie: Panchatantra [2018]
Music Label: DBeats
Music: V. Harikrishna
Lyrics: Yogaraj Bhat
Singer: Vijay Prakash
Comments
comments