September 30, 2020
Vaararu Vaararu Azhagar Vaararu Song Lyrics | Kallazhagar | Vijayakanth
Vaararu Vaararu Azhagar Vaararu Song Lyrics | Kallazhagar | Vijayakanth: Vaararu Vaararu Azhagar Vaararu is hit Tamil song from the 1999 Tamil movie Kallazhagar, directed by Bharathi and produced by Henry under the banner Pangaj Productions.
Vaararu Vaararu Azhagar Vaararu song lyrics were penned by famous lyricist Vairamuthu and the song was composed by Deva. This song was sung by Deva and S. A. Rajkumar. This film has got five songs written by Vairamuthu, Nandalala and Thamarai. Singers K. J. Yesudas, K. S. Chithra, S. P. B. Charan, Anuradha SriramKrishnaraj, Arundhati have lent their voice for the songs.
Kallazhagar Tamil film features Vijayakanth, Laila, Nassar, Major Sundarrajan, Thilakan, Manivannan, Sumithra, Sonu Sood, S. N. Lakshmi, Riyaz Khan, Vaiyapuri, and others.
This song Vaararu Vaararu Azhagar Vaararu is played every year during Chithirai Thiruvizha fest in Madurai. Chithirai Thiruvizha is an annual festival celebrated in the city of Madurai, Tamil Nadu during the Tamil month of Chithirai [April]. The Chithirai Fest lasts for one month.
First Fifteen days marks the celebrations of the coronation of Goddess Meenakshi and the Marriage of Lord Sundareswara and Goddess Meenakshi. Remaining 15 days marks the celebrations of the Journey of Lord Alagar from Kallazhagar temple in Alagar Koyil to Madurai.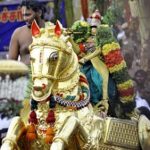 Song: Vaararu Vaararu
Movie: Kallazhagar [1999]
Music: Deva
Lyrics: Vairamuthu
Singer: Deva, S. A. Rajkumar
Cast: Vijayakanth, Laila
Check out the lyrics here..
Vaararu Vaararu Azhagar Vaararu
Vaararu Vaararu Azhagar Vaararu
Sapparam Yeri Vaaraaru
Namma Sangadam Theerka Poraaru
Ulagam Kaaka Vaaraaru
Ulla Kalagam Theerka Poraaru
Aah Vettaveli Pottalule Saadhi Sanam Kooti
Aah Kattazhagayum Kannazhagayum Kattalayum
Vaararu Vaararu Azhagar Vaararu
Aagayam Bhoomi Ellam Aati Vachchavar Azhagaru
Aati Vachchavar Azhagaru
Aimbhoodham Pirinjurundhadha Kooti Vachchavar Azhagaru
Kooti Vachchavar Azhagaru
Samayangalil Vettrumaiyai Pooti Vachchavar Azhagaru
Pooti Vachchavar Azhagaru
Samayam Vantha Sakkaraththa Theeti Vachchavar Azhagaru
Theeti Vachchavar Azhagaru
Mundhudhu Mundhudhu Saadhi Sanam
Ada Azhagar Kannula Sikkalaye
Vandhadhu Vandhadhu Kodi Sanam
Nama Vaigai Nadhikarai Paththalaye
Vaararu Vaararu Azhagar Vaararu
Vaararu Vaararu Azhagar Vaaraaru
Saami Kandadhum
Padhi Sananga
Saamyeri Aaduthe
Saadhi Sananga.. Kodi Sananga
Saadhi Marandhu Koodudhe
Uchchi Azhagu.. Paaththa Piragu
Uchchanthalayil Yerudhey
Sanda Marandhu.. Satham Marandhu
Sachcharavugal Theerudhey
Velli Malaiyila Saamyadi
Idhu Ezhainga Pakkame Nikkumadi
Nanmayadi Dhinam Nanmayadi
Ini Naadu Muzhuka Nanmaiyadi
Verum Thotta Thulangum Paalamadi
Namma Vetriku Ennaikum Vetriyadi
Thamma Kottunu Kottumadi
Selvam Kooraya Pirichu Kottumadi
Vandhom Thirandu
Vandhom Madurai
Vandhom Azhagar
Vaazhiyave
Kandom Azhagar
Kandom Azhagu
Kandom Madurai
Vaazhiyave
Kondom Unarchchi
Kondom Ezhuchchi
Kondom Idhayam
Vaazhiyave
Thaththom Thagida
Thaththom Thagida
Thaththom Paadi
Aadugave
Comments
comments