October 9, 2018
Yeko Yeno Nangeno Aagide Kannada Song Lyrics Released
Yeko Yeno Nangeno Aagide Kannada Song Lyrics Released:  Yeko Yeno Nangeno Aagide is a Kannada song from an upcoming 2018 Kannada movie Bazaar, directed by Simple Sunil [Sunil Kumar N] and produced by Thimme Gowda under Bharathi Film Productions banner. The story was written by M. L. Prasanna and Sunil while the dialogues were written by Sunil and Mrugashira Srikanth.
This song was composed by Ravi Basruru. Lyrics of the song was written by Sachin Shetty Kumble. This song was rendered by well known playback singers Sanjith Hegde and Anuradha Bhat. Aananda Audio is the record label of this movie.
Bazaar Kannada film features new comer Dhanveer along with Adhithi Prabudeva, Sharath Lohithashwa, Sadhu Kokila, Aruna Balaraj, Manjunath Hegde, Dharmendra Urs, Chitrakala Biradar.
The director of this movie Sunil Kumar N made his directorial debut in 2013 with Kannada movie Simple Agi Ondh Love Story starring  Rakshit Shetty, Shwetha Srivatsav and others. After the success of this movie, He directed movies like Bahuparak [2014], Simple Agi Innondh Love Story [2016] , Chamak [2017] and others. He is also works as lyric writer.
The music director of this movie Ravi Basruru, who made his debut in 2014 hit film Ugramm directed by  Prashanth Neel starring  Srimurali and Haripriya in the leading role. He won the Film Fare Best Background Score Award his debut movie. The duo of  Prashanth Neel and Ravi Basruru went on to work together again in blockbuster Kannada movie  K.G.F: Chapter 1 starring Yash.  Ravi Basruru made music and composed songs for films like Just Maduveli, Mufti, Anjani Putra, Samhaara and others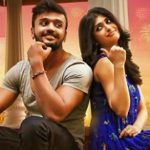 Yeko Yeno Nangeno Aagide Kannada Song Lyrics Released
Movie: Bazaar [2018]
Music by: Ravi Basruru
Lyrics by: Sachin Shetty Kumble
Cast: Dhanveer , Adhithi Prabudeva
Directed by:  Simple Sunil
Bazaar [2018] Kannada Movie Songs List
Love Failure
Movie: Bazaar [2018]
Music by: Ravi Basruru
Lyrics by: Sunil
Vocals by: Vijay Prakash
Onduralli Obba Yajamana
Movie: Bazaar [2018]
Music by: Ravi Basruru
Lyrics by: KinnalRaj
Vocals by: Kailash Kher
Masana Seroythu
Movie: Bazaar [2018]
Music by: Ravi Basruru
Lyrics by: Pramod Jaya
Vocals by : Ravi Basrur
Masana Seroythu
Movie: Bazaar [2018]
Music by: Ravi Basruru
Lyrics by: Pramod Jaya
Vocals by : Mehaboob Saab
Comments
comments