April 23, 2018
Aalayamani Songs Lyrics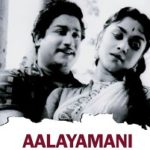 Aalayamani Songs Lyrics: Aalayamani is a song from the 1962 Tamil movie, directed by K. Shankar and written by Javar Seetharaman. The film was produced by P. S. Veerappa under the banner P. S. V. Pictures. Aalayamani features Sivaji Ganesan, S. S. Rajendran, B. Saroja Devi, M. R. Radha, C. R. Vijayakumari, M. V. Rajamma, Pushpalatha, P. S. Veerappa, T. R. Ramachandran, Chittor V. Nagaiah, K. Natarajan and others.
The film was remade in Telugu, Hindi and Malayalam as Gudi Gantalu [1964], Aadmi [1968], Oru Raagam Pala Thaalam [1979] respectively. EMI Records is the music label of this movie. All songs of this movie were composed by Viswanathan–Ramamoorthy with lyrics penned by Kannadasan. Songs of this album were rendered by singers T. M. Soundararajan, P. Suseela, S. Janaki, L. R. Eswari, Seerkazhi Govindarajan and M. S. Viswanathan.
This album contains some of the unforgettable songs. songs like Kallellam Manikka, Satti Sutthadhada, Ponnai Virumbum will live forever in the heart of Tamil cini music lovers. great music by Viswanathan–Ramamoorthy. Kannadasan lyrics are outstanding.
Check out the lyrics here..
Kallellam Manikka Kallaaguma Lyrics
Movie: Aalayamani [1962]
Music Label: EMI Records
Music: Viswanathan–Ramamoorthy
Lyrics: Kannadasan
Singers: T. M. Soundararajan, L. R. Eswari
Satti Sutthadhada Lyrics
Movie: Aalayamani [1962]
Music Label: EMI Records
Music: Viswanathan–Ramamoorthy
Lyrics: Kannadasan
Singer: T. M. Soundararajan
Ponnai Virumbum Bhoomiyile Lyrics
Movie: Aalayamani [1962]
Music Label: EMI Records
Music: Viswanathan–Ramamoorthy
Lyrics: Kannadasan
Singer: T. M. Soundararajan
Kannana Kannanukku Avasaramaa Lyrics
Movie: Aalayamani [1962]
Music Label: EMI Records
Music: Viswanathan–Ramamoorthy
Lyrics: Kannadasan
Singers: Seerkazhi Govindarajan, P. Suseela
Maanattam Thanga Mayilaattam Lyrics
Movie: Aalayamani [1962]
Music Label: EMI Records
Music: Viswanathan–Ramamoorthy
Lyrics: Kannadasan
Singer: P. Susheela
Thookkam Un Kangalai Lyrics
Movie: Aalayamani [1962]
Music Label: EMI Records
Music: Viswanathan–Ramamoorthy
Lyrics: Kannadasan
Singer: S. Janaki
Karunai Magan Lyrics
Movie: Aalayamani [1962]
Music Label: EMI Records
Music: Viswanathan–Ramamoorthy
Lyrics: Kannadasan
Singer: M. S. Viswanathan
Comments
comments