June 7, 2022
Chakku Chakku Vaththikuchi Lyrics
Chakku Chakku Vaththikuchi Lyrics: Chakku Chakku Vaththikuchi is a hit song from the 1995 film 'Asuran', directed by Velu Prabhakaran who is also the cinematographer of this film. It was written and produced by R. K. Selvamani under the banner Motherland Movies International.
Asuran [1995] Tamil film features Arun Pandian, Roja, Mansoor Ali Khan, Napoleon, Radharavi, Vijayakumar, Senthil, Thiyagu, Thalapathi Dinesh, Pandu, S. N. Lakshmi, Vichithra, Sathish Kumar, Krishnamoorthy, Krishnaraj Muthuramalingam, Naga Kannan, Kalyan, and others.
Chakku Chakku Vaththikuchi song lyrics were penned by Piraisoodan and the song was composed by Aadithyan. This song was rendered by Aadithyan and Sujatha.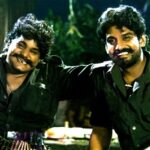 Chakku Chakku Vathikuchi Lyrics
Movie: Asuran [1995]
Music: Adithyan
Lyrics: Piraisoodan
Singers: Sujatha Mohan, Adithyan
Music Label: Saregama
Check out 'Chakku Chakku Vathikuchi Lyrics' here..
Chakku Chakku Vathikuchi
Sattunuthaan Pathikichi
Oyile Oyile
Chikku Chikku Chikkikichu
Chinna Ponnu Sokkikichu
Mayile Mayile
Arumbu Meesa Murukkathe
Kurumbu Paarva Paarkkathe
Rukku Rukku Rukku Rukku Rosapoo
Yekkuthappa Sikkitta Pollapoo
Rukku Rukku Rukku Rukku Rosapoo
Yekkuthappa Sikkitta Pollapoo
Chakku Chakku Vathikuchi
Sattunuthaan Pathikichi
Oyile Oyile
Chikku Chikku Chikkikichu
Chinna Ponnu Sokkikichu
Mayile Mayile
Naal Paarthu Odivaa
Naan Kaana Aadivaa
Thoondil Pottadhu Kannila
Neeyum Ulladhu Ennila
Theril Vandhadhu Thaenpala
Bodhai Vandhadhen Nenjila
Manjal Poosidum Pennila
Aval Mangai Aanadhum Thiruvizha
Dheivam Kandadhu Nerila
Kulir Thendral Vandhadhu Orula
Poomaalai Podava
Poongatre Odiva
Kannam Velliyin Kinnama
Anbe Bodhaiyai Sindhuma
Machan Aambilai Singama
Adhu Manjam Kandal Anjuma
Kaalam Yaavilum Inbama
Un Peran Paethigal Konjuma
Devi Kungumam Minnuma
Dhevalogamum Vaazhthuma
Melaadai Aagava
Thaenodai Aagava
Chakku Chakku Vathikuchi
Sattunuthaan Pathikichi
Oyile Oyile
Chikku Chikku Chikkikichu
Chinna Ponnu Sokkikichu
Mayile Mayile
Arumbu Meesa Murukkadhe
Kurumbu Paarva Paarkkadhe
Rukku Rukku Rukku Rukku Rosapoo
Yekkuthappa Sikkitta Pollapoo
Rukku Rukku Rukku Rukku Rosapoo
Yekkuthappa Sikkitta Pollapoo
Asuran [1995] Tamil Film Songs List
1. Moham Paththikichu
Music: Aadithyan
Lyrics: Palani Barathi
Singers: Gayathri, Aadithyan
2. Chakku Chakku Vaththikuchi
Music: Aadithyan
Lyrics: Piraisoodan
Singers: Aadithyan, Sujatha
3. O Saali O Saali
Music: Aadithyan
Lyrics: Palani Barathi
Singers: Sangeetha Mahadevan, Aadithyan
4. Kukko Kukko Koovuthamma
Music: Aadithyan
Lyrics: Kamakodiyan
Singer: Priya
5. O Vaanmathi
Music: Aadithyan
Lyrics: Piraisoodan
Singers: P. Unni Krishnan, Sangeetha Mahadevan, Sajith
Comments
comments