February 13, 2018
High On Love Lyrics
High On Love Lyrics: High On Love is a song from an upcoming 2018 Tamil movie Pyaar Prema Kaadhal, written and directed by Elan. The film was produced under the banner YSR Films. Pyaar Prema Kaadhal features Harish Kalyan, Raiza Wilson, Bhanupriya, Porkodi and others. U1 Records is the music label of this movie. This song was composed by Yuvan Shankar Raja with lyrics penned by Niranjan Bharathi. High On Love was rendered by Sid Sriram.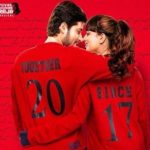 High On Love Lyrics
Movie: Pyaar Prema Kaadhal [2018]
Music Label: U1 Records
Music: Yuvan Shankar Raja
Lyrics: Niranjan Bharathi
Singers: Sid Sriram
Check out the lyrics here..
Yeh Penney
En Nenjil Saainthu Saaikiraai
Nee Arugil
Puriyatha Maayam Seigirai
Unnai Polavey Naan Ingey
Mayangi Kirangithaan Poneney
Bothaiyaga Thaan Aaneney
Thalladum Jeevaney
Jannaloramaai Munnaley
Minnal Polavey Vandhaaye
Vinnai Thandi Oru Sorgaththai
Mannil Yengumey Thandhaye
Vizhiyai Neengi Nee Vilagadhey
Nodiyum Yen Manam Thangadhey
Yennu Nerumo Theriyadhey
En Jeevan Yengudhey
En Uyirinai Vadhaithidum Azhagi Nee
En Ithayathil Amarnthidum Arasi Nee
En Udalinil Nadhiyaai Odum Uthiram Neeyadi
Un Siripinil Kavithaigal Kalanguthey
Un Mozhigalil Isaigalum Thorkuthey
Un Iruvizhi Minnal Yendha Vaanam Yenguthey..
Unakul Yenthum Kaadhal Kaangiren
Veliyil Solla Vaarthaigal Thevaiya
Irunthun Un Ithuzhgal
Antha Vaarthai Sollumaa
Kuruvi Polavey Yen Ullam
Thaththi Thaavuthey Unnaley
Kuzhanthai Polavey En Kaalgal
Suthi Thiriyuthey Pinnaaley
Theeyai Polavey En Thegam
Paththi Yeriyuthey Thannaley
Aruvi Polavey Aanandham
Nilamal Paayuthey..
Yeh Penney
En Nenjil Saainthu Saaikiraai
Nee Arugil
Puriyatha Maayam Seigirai
Pyaar Prema Kaadhal
Pyaar Prema Kaadhal
Pyaar Prema Kaadhal
Pyaar Prema Kaadhal
Comments
comments