October 9, 2023
Jigarthanda DoubleX First Single – Maamadura Lyrics Video Released
Jigarthanda DoubleX First Single – Maamadura Lyrics Video Released: The much expected first single from the upcoming Tamil movie 'Jigarthanda DoubleX', was released today 9th October 2023.
Jigarthanda DoubleX First Single Maamadura Lyrics we were pennend by Vivek and the song was composed by music director Santhosh Narayanan. This song was sung by Dhee, & Santhosh Narayanan.
Jigarthanda DoubleX Tamil movie was written & directed by Karthik Subbaraj, and produced by Kaarthekeyen Santhanam, Alankar Pandian and S. Kathiresan under the banners of Stone Bench Films, Five Star Creation and Invenio Origin.
Jigarthanda DoubleX Tamil film features Raghava Lawrence, S. J. Suryah, Nimisha Sajayan, Shine Tom Chacko, Sathyan, Aravind Akash, Ilavarasu, Bava Chelladurai, and others.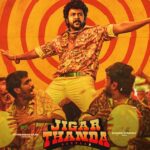 Maamadura Lyrics Video Released
Movie: Jigarthanda DoubleX
Music: Santhosh Narayanan
Lyrics : Vivek
Singers : Dhee, Santhosh Narayanan
Audio Label : Think Music
---
Song Credits:
Indian Rhythm : Budhdhar Kalai Kuzhu
Chorus : Sathyan, Karthik Manickavasakam, Aditya Ravindran, Pranav Muniraj, Jaba Raj
Additional Keys : Aditya Ravindran
Additional Programming : 808 Krsna
Recorded by Santhosh Narayanan, Karthik Manickavasakam
Recorded at Future Tense Studios – Chennai, Offbeat Music Ventures – Chennai
Recording Engineer : Pranav Muniraj, Rupendar Venkatesh
Mixed and Mastered by Rupendar Venkatesh at Future Tense Studios
Musicians Coordinator : Meenakshi Santhosh
Movie Credits:
A Karthik Subbaraj Padam
A Santhosh Narayanan Musical
DOP : S Thirunavukkarasu
Editor : Shafique Mohamed Ali
Production Designer : T Santanam
Stunts : Dhilip Subbbarayan
Art Directors : Balasubramanian, Kumar Gangappan
Choreography : Sherif M, Baba Baskar
Sound Designer : Kunal Rajan
Sound Mix : Suren G
Costume Designer : Praveen Raja
Makeup : Vinoth S
Costumer : Subier
Lyrics : Vivek, Muthamil R M S
Stills : M Dinesh
VFX Supervisor : H Monesh
Colorist : Ranga
Publicity Designs : Tuney John (24AM)
Production Controller : Ganesh PS
Production Executive : G. Duraimurugan
Production Coordinator : Rajkumar
Production Managers : N Shanmuga Sundharam, Rangaraj Perumal
Executive Producer : Ashok Narayanan M
Associate Producer : Pavan Narendra
Co Produced by Kal Raman, S Somasegar, Kalyan Subramaniam
Co Produced by Alankar Pandian
Direction Team : Srinivasan, Anand Purushoth, Karthik VP, Vigneswaran, Jagadish, Arvind Raju R, Mahes Balu, Sooraj Das, Sai, Muruganantham, Raghul M, Avinash R, Mohan Kumar R
PRO : Nikil Murukan, Vamsi Kaka, Ebrahim Contractor
Produced by Kaarthekeyan Santhanam, S Kathiresan
Comments
comments