February 15, 2023
Meenamma Athikalayilum Lyrics
Meenamma Athikalayilum Lyrics: Meenamma Athikalayilum is super hit song from the 1995 Tamil film Aasai, written and directed by Vasanth and produced by Mani Ratnam, S. Sriram under the banner Aalayam.
Aasai [1995] Tamil film features Ajith Kumar, Suvaluxmi, Prakash Raj, Rohini, Poornam Viswanathan, Nizhalgal
Ravi, Vadivelu, Dhamu, Monica, Mayilsamy, Madhan Bob, Mahanadi Shankar, Veeraraghavan, Bayilvan Ranganathan, S. J. Suryah, Pooja Batra, Anand Krishnamoorthi, Raju Sundaram, and others. The film marked the Tamil debut of actress Suvaluxmi.
Meenamma Athikalayilum Lyrics were penned by legendary lyricist Vaali and the song was composed by music director Deva. This song was sung by playback singers P. Unnikrishnan, and Anuradha Sriram.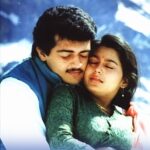 Meenamma Athikalayilum Lyrics
Movie: Aasai [1995]
Music: Deva
Lyrics: Vaali
Singers: P. Unnikrishnan, Anuradha Sriram
Music Label: Pyramid Music
Check out 'Meenamma Athikalayilum Lyrics' here..
Meenamma Athikalayilum
Andhimaalaiyilum
Undhan Nyaabagame
Ammammaaa..
Mudhal Parvaiyile
Sonna Varthaiyellam
Oru Kaviyame
Chinna Chinna Oodalgalum
Chinna Chinna Modhalgalum
Minnal Pola Vandhu Vandhu Pogum..
Oodal Vandhu Modhal Vandhu
Muttikonda Podhum
Ingu Kaadhal Mattum
Kaayam Indri Vaazhum
Iru Madhanghal Naatkal Sella Aaha..
Niram Maridum Pookal Alla Aaha..
Meenammaa Adikaalaiyilum
Andhi Maalaiyilum
Undhan Nyaabagame
Oru Chinna Poothiriyil
Oli Sindhum Rathiriyil
Indha Methai Mel
Ilam Thathai Pol
Pudhu Vithai Kaattidava
Oru Jannal Angirukku
Thendral Yetti Paarpadharkku
Adhai Moodamal Thazh Podaamal
Ennai Thottu Thenduvadha..
Maamankaaran Thaane
Maalai Potta Naane
Mogam Theerave
Medhuvaai Medhuvaai Thodalaam
Meenamma Mazhai Unnai Nanaithaal
Ingu Enakkallava Kulir Kaaichal Varum
Ammammaa Veyil Unnai Adithal
Ingu Enakkallava Udal Verthu Vidum
Tut Tut Tudu Du..
Andru Kadhal Panniyadhu
Unndhan Kannam Killiyadhu
Adi Ippodhum Niram Maaramal
Indha Nenjil Nirkkiradhu
Angu Pattu Selaigalum
Nagai Nattu Paaththiramum
Unnai Kettenae Sandai Pottene
Adhu Kannil Nirkiradhu
Jaathi Malli Poove
Thanga Vennilave
Asai Theerave Pesalaam
Mudhal Naal Iravu
Tut Tut Tudu Du..
Meenamma
Unnai Nesikkavum
Anbai Vaasikkavum
Thendral Kathirukku
Ammammaa
Unnai Kaadhalithu
Buddhi Pedhalithu
Pushpam Poothirukku
Comments
comments