September 1, 2022
Producer Ravinder Chandrasekar Marries Chinnathirai Mahalakshmi
Producer Ravinder Chandrasekar Marries Chinnathirai Mahalakshmi: Tamil film world's famous producer Ravindran's wedding to actress Mahalakshmi's photos are going viral on the internet.
Producer Ravindran Chandrasekhar has produced films such as Suttagatai Sidhuhuna Ennanu Diya and Murungakankai Chips under Libra Productions, a leading production company in the Tamil film industry. Also known as a critic of Bigg Boss, his review of Bigg Boss Season 4 went viral.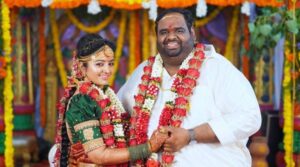 Rabindran Chandrasekhar, who is a producer and distributor, is now married to small screen actress Mahalakshmi. She came to the small screen as a VJ on SunTV and acted in the serial Mahalakshmi Arasi. Vani Rani continues. Mahalakshmi, who acted in serials like Ponnuku Thangamanasu and Thamarai, was popularized among the fans of Zee Tamil's Devathai Kandaen series.
Meanwhile, actress Mahalakshmi is currently married to producer Ravindran Chandrasekhar. Their marriage took place in Tirupati. Ravindran, who posted a photo related to the wedding on his social media page, expressed his happiness by posting in his post, "If you get a girl like Mahalakshmi, life will be good, but if you get Mahalakshmi."
Mahalakshmi shared the wedding photos on her Instagram page and wrote, "I am lucky to have you in my life. He mentioned that you have made my life beautiful with your love.
Ravinder is producing the movie 'Vidyumwari Kathiru'. It is said that the two fell in love while acting in that film. It is noteworthy that Mahalakshmi, who is already married, is separated from her husband and has a son.
Many fans who have seen this post are expressing their congratulations. All these pictures are going viral on the internet.
Comments
comments