December 27, 2021
Sivaji Ganesan K. R. Vijaya Tamil Movies List
Sivaji Ganesan K. R. Vijaya Tamil Movies List: The pair of Nadigar Thilakam 'Sivaji Ganesan' and Punnagai Arasi 'K. R. Vijaya' is considered as one of the best onscreen pairs of Tamil Cinema. They have acted together in 28 Tamil movies and most of them are blockbuster movies.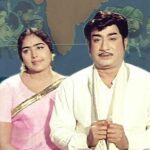 Kai Kodutha Daivam, directed by K S Gopalakrishnan was the first film of K. R. Vijaya with Sivaji sir. later, they went to act in many memorable films. In most of the films they acted as couples but in few films they acted in different roles. In this article, we have made an effort to list out the movies in which these two great actors took part.
K. R. Vijaya [Deivanayaki] is a multilingual star who had acted in more than 500 films in Tamil, Malayalam, Telugu and Kannada languages. She started her career in the 1963 and has been acting for about four decades in South Indian cinema. The actress has worked with almost all the stalwarts of South Indian cinema and has played many key roles.
Sivaji Ganesan K. R. Vijaya Tamil Movies List
1. Kai Koduttha Dheivam [1964]
Released On: 18 July 1964
Directed by: K. S. Gopalakrishnan
Music by: Viswanathan-Ramamoorthy
Lyrics by: Kannadasan
Cast: S. S. Rajendran, Savithri
Production company: Sri Ponni Productions
---
2. Chinnanchiru Ulagam [1966]
Released On: 2 September 1966
Directed by: K. S. Gopalakrishnan
Based on: Manithanai Kaanom [Subbu Arumugam]
Music by: K. V. Mahadevan
Lyrics by: Vaali
Cast: Nagesh, V. K. Ramasamy
Production company: Chitra Productions
---
3. Saraswati Sabatham [1966]
Released On: 3 September 1966
Directed by: A. P. Nagarajan
Music by: K. V. Mahadevan
Lyrics by: Kannadasan
Cast: Gemini Ganesan, Savitri, Padmini
Production company: Sri Vijayalakshmi Pictures
---
4. Selvam [1966]
Released On: 11 November 1966
Directed by: K. S. Gopalakrishnan
Music by: K. V. Mahadevan
Lyrics by: Vaali, Alangudi Somu
Cast: S. V. Ranga Rao, Nagesh
Production company: V. K. R. Pictures
---
5. Kandan Karunai [1967]
Released Date: 14 January 1967
Director: A. P. Nagarajan
Based on: Kanthapuranam
Music: K. V. Mahadevan
Lyrics: Sankaradas Swamigal, Kannadasan
Cast: Sivakumar, Gemini Ganesan, Savitri
Banner: A. L. S. Productions
---
6. Nenjirukkum Varai [1967]
Released Date: 2 March 1967
Director: C. V. Sridhar
Music: M. S. Viswanathan
Lyrics: Kannadasan, Vaali
Cast: Muthuraman, Gopalakrishnan
Banner: Chithralaya Pictures
---
7. Thangai [1967]
Released Date: 19 May 1967
Director: A. C. Tirulokchandar
Dialogues: Aroordhas
Music: M. S. Viswanathan
Lyrics: Kannadasan
Cast: Kanchana, K. Balaji, Nagesh
Banner: Sujatha Cine Arts
---
8. Paladai [1967]
Released Date: 16 June 1967
Director: A. Bhimsingh
Written by: Bilahari [T. Raman]
Music: K. V. Mahadevan
Lyrics: Kannadasan, Thanjai Vanan
Cast: Padmini, V. K. Ramasamy
Banner: Kamala Pictures
---
9. Thiruvarutselvar [1967]
Released On: 28 July 1967
Directed by: A. P. Nagarajan
Music by: K. V. Mahadevan
Lyrics by: Kannadasan
Cast: Gemini Ganesan, R. Muthuraman, Savitri
Production company: Sri Vijayalakshmi Pictures
---
10. Iru Malargal [1967]
Released Date: 1 November 1967
Director: A. C. Tirulogchander
Music: M. S. Viswanathan
Lyrics: Vaali
Cast: Padmini, S. A. Ashokan
Banner: Manijeh Cine Productions
---
11. Ooty Varai Uravu [1967]
Released Date: 1 November 1967
Director: C. V. Sridhar
Music: M. S. Viswanathan
Lyrics: Kannadasan
Cast: T. S. Balaiah, R. Muthuraman
Banner: Kay Cee Films
---
12. Thirumal Perumai [1968]
Released Date: 16 February 1968
Director: A. P. Nagarajan
Music: K. V. Mahadevan
Lyrics: Kannadasan
Cast: Sowcar Janaki, Padmini
Banner: Thiruvenkateswara Movies
---
13. Thirudan [1969]
Released Date: 10 October 1969
Director: A. C. Tirulokchandar
Music: M. S. Viswanathan
Lyrics: Kannadasan
Cast: Vijaya Lalitha, K. Balaji
Banner: Sujatha Cine Arts
---
14. Ethiroli [1970]
Released Date: 27 June 1970
Director: K. Balachander
Music: K. V. Mahadevan
Lyrics: Vaali
Cast: S. S. Rajendran, Jyothi Lakshmi
Banner: Navarathna Films
---
15. Raman Ethanai Ramanadi [1970]
Released On: 15 August 1970
Directed by: P. Madhavan
Written by: Bala Murugan
Music by: M. S. Viswanathan
Lyrics by: Kannadasan
Cast: Muthuraman, M. N. Nambiar
Production company: Arun Prasad Movies
---
16. Sorgam [1970]
Released On: 29 October 1970
Directed by: T. R. Ramanna
Music by: M. S. Viswanathan
Lyrics by: Kannadasan, Alangudi Somu
Cast: Rajasree, Muthuraman
Production company: Sri Vinayaga Pictures
---
17. Thavapudhalavan [1972]
Released Date: 26 August 1972
Director: Muktha Srinivasan
Writer: Thooyavan
Music: M. S. Viswanathan
Lyrics: Kannadasan, Vaali
Cast: Pandari Bai, V. Gopalakrishnan
Banner: Muktha Films
---
18. Ponnunjal [1973]
Released On: 15 June 1973
Directed by: C. V. Rajendran
Written by: Sakthi T. K. Krishnasamy
Music by: M. S. Viswanathan
Lyrics by: Kannadasan, Selvabharathi
Cast: R. Muthuraman, M. N. Nambiar
---
19. Bharatha Vilas [1973]
Released On: 24 March 1973
Directed by: A. C. Tirulokchandar
Music by: M. S. Viswanathan
Lyrics by: Vaali
Cast: Major Sundarrajan, Devika
Production company: Cine Bharath Productions
---
20. Thangappathakkam [1974]
Released On: 1 June 1974
Directed by: P. Madhavan
Screenplay by: Mahendran
Music by: M. S. Viswanathan
Lyrics by: Kannadasan
Cast: Srikanth, Prameela, Cho
Production company: Sivaji Productions
---
21. Gruhapravesam [1976]
Released Date: 10 April 1976
Director: D. Yoganand
Music: M. S. Viswanathan
Lyrics: Kannadasan
Cast: Sivakumar, Jaya
Banner: Prosperity Pictures
---
22. Naam Pirandha Mann [1977]
Released Date: 7 October 1977
Director: A. Vincent
Music: M. S. Viswanathan
Lyrics: Kannadasan
Cast: Gemini Ganesan, Kamal Haasan
Banner: Vijaya Arts
---
23. General Chakravarthi [1978]
Released Date: 16 June 1978
Director: D. Yoganand
Written by: Selvabharathi
Music: M. S. Viswanathan
Lyrics: Kannadasan
Cast: Mohan Sharma, Kavitha
Banner: Vijayavel Films
---
24. Justice Gopinath [1978]
Released Date: 16 December 1978
Director: D. Yoganand
Story by: Nannu Chandra
Music: M. S. Viswanathan
Lyrics: Vaali
Cast: Rajinikanth, Sumithra
Banner: Vallimanalan Pictures
---
25. Thirisoolam [1979]
Released Date: 27 January 1979
Director: K. Vijayan
Story: M. D. Sundar
Music: M. S. Viswanathan
Lyrics: Kannadasan
Cast: Sripriya, M. N. Nambiar
Banner: Sivaji Productions
---
26. Naan Vazhavaippen [1979]
Released Date: 10 August 1979
Director: D. Yoganand
Music: Ilaiyaraaja
Lyrics: Vaali, kannadasan
Cast: Rajinikanth, Pandari Bai
Banner: Vallinayagam Films
---
27. Rishi Moolam [1980]
Released Date: 26 January 1980
Director: S. P. Muthuraman
Music: Ilaiyaraaja
Lyrics: Kannadasan
Cast: Major Sundarrajan, Suruli Rajan
Banner: S. S. K. Films
---
28. Natchathiram [1980]
Released Date: 12 April 1980
Director: Dasari Narayana Rao
Music: Shankar–Ganesh
Lyrics: Pulamaipithan, Kannadasan
Cast: Sripriya, Mohan Babu
Banner: Sreesanmundeeswari
---
29. Dharma Raja [1980]
Released Date: 26 April 1980
Director: M. A. Thirumugam
Music: M. S. Viswanathan
Lyrics: Kannadasan
Cast: K. Balaji, Major Sundarrajan
Banner: Vijayavel Films
---
30. Sathya Sundharam [1981]
Released Date: 21 February 1981
Director: K. S. Rao
Dialogues: Aroor Das
Music: M S Viswanathan
Lyrics: Kannadasan
Cast: Jaiganesh, Suruli Rajan
Banner: Balakrishna Productions
---
31. Kalthoon [1981]
Released Date: 1 May 1981
Director: Major Sundarrajan
Music: M. S. Viswanathan
Lyrics: Kannadasan
Cast: Major Sundarrajan, Nagesh
Banner: S.S.K. Films
---
32. Hitler Umanath [1982]
Released On: 26 January 1982
Directed by: P. Madhavan
Written by: Mahendran
Music by: M. S. Viswanathan
Lyrics: Kannadasan
Cast: Sathyaraj, Suruli Rajan
Banner: P.V.T. Productions
---
33. Oorukku Oru Pillai [1982]
Released Date: 5 February 1982
Directed by: D. Yoganand
Music: M. S. Viswanathan
Lyrics: Muthulingam
Cast: M. N. Nambiar, V. K. Ramasamy
Banner: Sri Gomathishankar Pictures
---
34. Oorum Uravum [1982]
Released Date: 14 November 1982
Director: Major Sundarrajan
Story by: M. Balaiah
Music: Shankar–Ganesh
Cast: A. V. M. Rajan, Thengai Srinivasan
Banner: Raja Mahalakshmi Arts
---
35. Neethibathi [1983]
Released Date: 26 January 1983
Directed by: R. Krishnamoorthy
Story by: Satyanand
Music by: Gangai Amaran
Lyrics: Vaali
Cast: Sujatha, Manorama
Banner: Suresh Arts
---
36. Miruthanga Chakravarthi [1983]
Released Date: 24 September 1983
Director: K. Shankar
Music: M. S. Viswanathan
Lyrics: Vaali
Cast: Prabhu, Sulakshana
Banner: Bhairavi Films
---
37. Simma Soppanam [1984]
Released On: 30 June 1984
Directed by: Vijay Krishnaraj
Music by: K V Mahadevan
Cast: Prabhu, Radha
produced by: S. S. Karuppa Sami
---
38. Tharaasu [1984]
Released Date: 16 March 1984
Director: Rajaganapathy
Music: M S Viswanathan
Cast: Prabhu, Ambika
---
39. Vamsa Vilakku [1984]
Released Date: 23 October 1984
Director: R. Krishnamoorthy
Music: Gangai Amaran
Cast: Prabhu, Raadhika
Produced by: S. R. Arulprakasam
---
40. Padikkadha Pannaiyar [1985]
Released On: 23 March 1985
Directed by: K. S. Gopalakrishnan
Music by: Ilayaraja
Lyrics by: Vaali, Gangai Amaran
Cast: Anuradha, Y. G. Mahendran
Banner: Karpaga Lakshmi Pictures
---
41. Raja Rishi [1985]
Released On: 20 September 1985
Director: K. Shankar
Story: A. S. Prakasam
Music: Ilaiyaraaja
Lyrics: Pulamaipithan, Vaali
Cast: Raadhika, Prabhu, Lakshmi
Production company: Bhairavi Films
---
42. Saadhanai [1986]
Released Date: 10 January 1986
Director: A. S. Pragasam
Music: Ilaiyaraaja
Lyrics: Vairamuthu, Vaali
Cast: Prabhu, Nalini, Senthil
Banner: Pragaas Productions
---
43. Krishnan Vandhaan [1987]
Released Date: 28 August 1987
Director: K. Vijayan
Music: Ilaiyaraaja
Lyrics: Mu. Metha, Gangai Amaren
Cast: Mohan, Rekha, M. N. Nambiar
Produced by: Thengai Srinivasan
---
44. Mannavaru Chinnavaru [1999]
Released On: 15 January 1999
Directed by: P. N. Ramachandra Rao
Music by: Geethapriyan
Cast: Arjun, Soundarya, Maheswari
Production company: V. Creations
Comments
comments