June 9, 2021
Balakrishna Vijayashanthi Movies List | Happy Birthday NBK
Balakrishna Vijayashanthi Movies List | Happy Birthday NBK: The combination of Actor Nandamuri Balakrishna and Actress Vijayashanti is considered as one of the best silver screen pair of Telugu cinema. They had acted together in 17 films and most of them are super hit movies.
The film the duo acted together was 1984 Telugu film 'Kathanayakudu' directed by K. Murali Mohana Rao. later on the pair went to star in many commercially successful movies.
On the account of Nandamuri Balakrishna's birthday, Here we have made an attempt to list out Balakrishna Vijayashanthi Telugu Movies. Happy Birthday Balayya!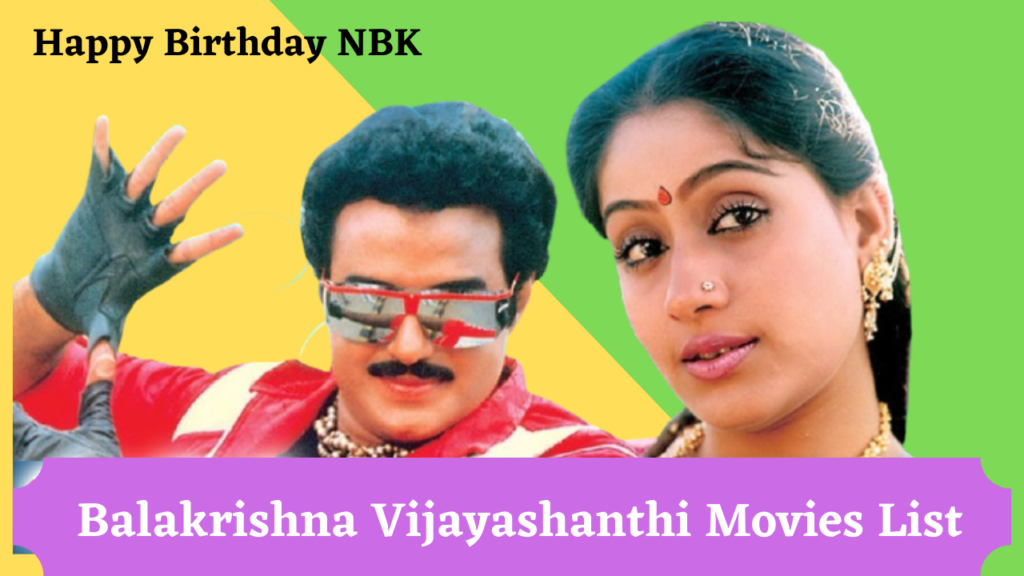 Balakrishna Vijayashanthi Movies List
1. Kathanayakudu [1984]
Release date: 14 December 1984
Directed by: K. Murali Mohana Rao
Story: Paruchuri Brothers
Music: Chakravarthy
Lyrics: Veturi Sundararama Murthy
Banner: Suresh Productions
Supporting Cast: Sharada, Chandra Mohan
2. Pattabhishekam [1985]
Release date: 19 December 1985
Directed by: K. Raghavendra Rao
Story: Paruchuri Brothers
Music: Chakravarthy
Lyrics: Veturi Sundararama Murthy
Banner: Ramakrishna Cine Studios
Supporting Cast: Prabhakar, Rajendra Prasad
3. Muddula Krishnaiah [1986]
Release date: 28 February 1986
Directed by: Kodi Ramakrishna
Written by: Ganesh Patro
Music: K. V. Mahadevan
Lyrics: C. Narayana Reddy
Banner: Bhargav Art Productions
Supporting Cast: Radha, S. Varalakshmi
4. Deshoddharakudu [1986]
Release date: 7 August 1986
Directed by: S. S. Ravi Chandra
Story: Gollapudi Maruthi Rao
Music: Chakravarthy
Lyrics: Veturi Sundararama Murthy
Banner: Vijayabhaskar Productions
Supporting Cast: Nutan Prasad, Sudhakar
5. Apoorva Sahodarulu [1986]
Release date: 9 October 1986
Directed by: K. Raghavendra Rao
Story: Sunil Varma
Music: Chakravarthy
Lyrics: Veturi Sundararama Murthy
Banner: R. K. Associates
Supporting Cast: Bhanupriya, Rao Gopal Rao
6. Bhargava Ramudu [1987]
Release date:14 January 1987
Directed by: A. Kodandarami Reddy
Story: Kommanapalli Ganapathi Rao
Music: Chakravarthy
Lyrics: Veturi Sundararama Murthy
Banner: Jaya Productions
Supporting Cast: Mandakini, Rao Gopal Rao
7. Sahasa Samrat [1987]
Release date: 13 April 1987
Directed by: K. Raghavendra Rao
Written by: Ganesh Patro
Music: Chakravarthy
Lyrics: Veturi Sundararama Murthy
Banner: Devi Kamal Movies
Supporting Cast: Sudhakar, Chalapathi Rao
8. Muvva Gopaludu [1987]
Release date: 19 May 1987
Directed by: Kodi Ramakrishna
Story: G. M. Kumar, Livingston
Music: K. V. Mahadevan
Lyrics: C. Narayana Reddy
Banner: Bhargav Art Productions
Supporting Cast: Shobhana, Jayachitra
9. Bhanumati Gari Mogudu [1987]
Release date: 18 November 1987
Directed by: A. Kodandarami Reddy
Story: P. Kalaimani
Music: Chakravarthy
Lyrics: Veturi Sundararama Murthy
Banner: D.V.S. Enterprises
Supporting Cast: Aswini, Ranganath, Giri Babu
10. Inspector Pratap [1988]
Release date: 15 January 1988
Directed by: Muthyala Subbaiah
Written by: M. V. S. Haranatha Rao
Music: Chakravarthy
Lyrics: Veturi Sundararama Murthy
Banner: Krishna Chitra
Supporting Cast: Satyanaryana, Jaggayya
11. Bhale Donga [1989]
Release date:10 February 1989
Director: A. Kodandarami Reddy
Story: G. Satya Murthy
Music: Chakravarthy
Lyrics: Veturi Sundararama Murthy
Banner: Devi Films
Supporting Cast: Sharada, Mohan Babu
12. Muddula Mavayya [1989]
Release date: 7 April 1989
Directed by: Kodi Ramakrishna
Story: P. Vasu
Music: K. V. Mahadevan
Lyrics: C. Narayana Reddy, Vennelakanti
Banner: Bhargav Art Productions
Supporting Cast: Seeta, Anandaraj
13. Muddula Menalludu [1990]
Release date: 7 July 1990
Director: Kodi Ramakrishna
Story: V. Azhagappan
Music: K. V. Mahadevan
Lyrics: Vennelakanti, C. Narayana Reddy
Banner: Bhargav Art Productions
Supporting Cast: Nassar, Brahmaji
14. Lorry Driver [1990]
Release date: 21 December 1990
Directed by: B. Gopal
Story: A. Anjineeya Pushpanand
Music: Chakravarthy
Lyrics: Sirivennela Sitarama Sastry
Banner: Jaya Productions
Supporting Cast: Sharada, Rao Gopal Rao
15. Talli Tandrulu [1991]
Release date: 11 February 1991
Director: Tatineni Rama Rao
Screenplay: Tatineni Rama Rao
Music: Chakravarthy
Lyrics: Sirivennela Sitarama Sastry
Banner: Prasad Art Pictures
Supporting Cast: Satyanarayana, Gummadi
16. Rowdy Inspector [1992]
Release date: 7 May 1992
Directed by: B. Gopal
Story: A. Anjineeya Pushpanand
Music: Bappi Lahari
Lyrics: Bhuvanachandra
Banner: Vijayalakshmi Art Pictures
Supporting Cast: Jaggayya, Brahmanandam
17. Nippu Ravva [1993]
Release date: 3 September 1993
Directed by: A. Kodandarami Reddy
Written by: Paruchuri Brothers
Music: Bappi Lahiri, Raj-Koti
Lyrics: Sirivennela Sitarama Sastry
Banner: Yuvarathna Arts
Supporting Cast: Allu Ramalingaiah, Amrish Puri
Comments
comments