January 11, 2019
Harivarasanam Viswamohanam Song Lyrics | Swami Ayyappan Songs
Harivarasanam Viswamohanam Song Lyrics | Swami Ayyappan Songs: Harivarasanam Viswamohanam is very famous devotional song dedicated to Lord Ayyappa. This song is recited at Sabarimala Ayyappa Temple, just prior to closing of the doors at night.
Harivarasanam [Hariharasuthashtakam] is a Sanskrit Hindu devotional song composed in the astakam metre. Though there have been various versions of this song rendered by many singers, the Sabarimala temple plays the rendition by K. J. Yesudas composed by G. Devarajan for the 1975 film Swami Ayyappan made in Malayalam and Tamil.
Swami Ayyappan film was directed and produced by P. Subramaniam. The film features Gemini Ganesan, Thikkurissi Sukumaran Nair, Srividya, Unnimary, Lakshmi, K. Balaji, Sekhar, Master Raghu, Master Karan, Raghavan, Rani Chandra, Vinodini and others. Harivarasanam Viswamohanam song was written by Kambakudi Kulathur Srinivasa Iyer. Some ascribe the authorship of Harivarasanam to Konnakathu Janaki Amma.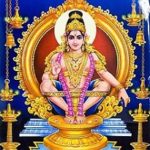 Harivarasanam Viswamohanam Song Lyrics
Music: G. Devarajan
Lyrics: Kambakudi Kulathur Srinivasa Iyer
Singer: K. J. Yesudas
Genere: Devotional
Lord: Ayyappa
Check out the lyrics here..
Harivarasanam Viswamohanam
Haridadhiswaram Aaradhyapadhukam
Arivimardhanam Nithyanarthanam
Hariharatmajam Devamashreye
Saranam Ayyappa Swamy Saranam Ayyappa
Saranam Ayyappa Swamy Saranam Ayyappa
Saranakirtanam Bakhtamanasam
Bharanalolupam Narthanalasam
Arunabhasuram Bhoothanayakam
Hariharatmajam Devamashreye
Saranam Ayyappa Swamy Saranam Ayyappa
Saranam Ayyappa Swamy Saranam Ayyappa
Pranayasathyakam Praananayakam
Pranathakalpakam Suprabhanjitham
Pranavamanidram Keerthanapriyam
Hariharatmajam Devamashreye
Saranam Ayyappa Swamy Saranam Ayyappa
Saranam Ayyappa Swamy Saranam Ayyappa
Thuragavahanam Sundarananam
Varagadhayudham Vedavavarnitham
Gurukrupakaram Keerthanapriyam
Hariharatmajam Devamashreye
Saranam Ayyappa Swamy Saranam Ayyappa
Saranam Ayyappa Swamy Saranam Ayyappa
Tribuvanarchitam Devathathmakam
Trinayanam Prabhum Divyadeshikam
Tridashapoojitham Chinthithapradam
Hariharatmajam Devamashreye
Saranam Ayyappa Swamy Saranam Ayyappa
Saranam Ayyappa Swamy Saranam Ayyappa
Bhavabhayapaham Bhavukavaham
Bhuvanamohanam Bhoothibhooshanam
Dhavalavahanam Divyavaranam
Hariharatmajam Devamashreye
Saranam Ayyappa Swamy Saranam Ayyappa
Saranam Ayyappa Swamy Saranam Ayyappa
Kalamrudusmitham Sundarananam
Kalabhakomalam Gathramohanam
Kalabhakesari Vajivahanam
Hariharatmajam Devamashreye
Saranam Ayyappa Swamy Saranam Ayyappa
Saranam Ayyappa Swamy Saranam Ayyappa
Srithajanapriyam Chinthithapradam
Sruthivibhushanam Sadhujeevanam
Sruthimanoharam Geethalalasam
Hariharatmajam Devamashreye
Saranam Ayyappa Swamy Saranam Ayyappa
Saranam Ayyappa Swamy Saranam Ayyappa
Comments
comments