August 2, 2021
Tvameva Saranam Lyrics | Annamayya Devotional Songs | Annamacharya
Tvameva Saranam Lyrics | Annamayya Devotional Songs | Annamacharya: Tvameva Saranam is a famous Telugu Devotional Song or Keerthana composed by Sri Tallapaka Annamacharya or Annamayya. The song was composed in Kuranji Raagam.
Tallapaka Annamacharya [Annamayya] was a 15th century Hindu saint and composer. He was the ardent devotee of Lord Vishnu. He is believed to have been the creator avatar of Nandaka, the sword of Vishnu. He is considered as the
'Grandfather of Telugu song-writing'.
He had composed lots of keertanas in praise of Lord Venkateswara Swami of Tirupathi. The musical form of the Keertana songs that he composed, have strongly influenced the structure of Carnatic music compositions. He is
widely regarded as the Andhra Pada kavita Pitamaha.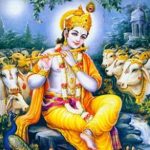 Tvameva Saranam Song Lyrics
Composer: Sri Tallapaka Annamacharya [Annamayya]
Language: Telugu
Singers: Various
Genre: Carnatic Keerthana
Lord: Kirhsna / Jagannadha
Check out 'Tvameva Saranam Song Lyrics' here..
Tvameva Saranam Tvameva Saranam
Twameva Saranam Twameva Saranam
Kamalodhara Sree Jagannadha
Thwameva Saranam Thwameva Saranam
Kamalodhara Sree Jagannadha
Thwameva Saranam Thwameva Saranam
Vasudeva Krishna Vaamana Narasimha
Sri Satisha Sarasijanethra
Vasudeva Krishna Vaamana Narasimha
Sri Satisha Sarasijanethra
Bhoosuravallaba Purushottama
Peetha Kauseyavasana Jagnnatha
Bhoosuravallaba Purushottama
Peetha Kauseyavasana Jagnnatha
Twameva Saranam Twameva Saranam
Kamalodhara Sree Jagannadha
Twameva Saranam Twameva Saranam
Kamalodhara Sree Jagannadha
Balabadranuja Paramapurusha
Dugdha Jaladhivihaara Kunjaravarada
Balabadranuja Paramapurusha
Dugdha Jaladhivihaara Kunjaravarada
Sulabha Subhadra Sumuka Sureshvara
Kalidoshaharana Jagannatha
Sulabha Subhadra Sumuka Sureshvara
Kalidoshaharana Jagannatha
Thwameva Saranam Twameva Saranam
Kamalodhara Sree Jagannadha
Thwameva Saranam Twameva Saranam
Kamalodhara Sree Jagannadha
Vatapathrasayana Bhuvanapalana
Janthu Gatakarakarana Srungaraadhipa
Vatapathrasayana Bhuvanapalana
Janthu Gatakarakarana Srungaraadhipa
Patuthara Nithya Vaibhavaraaya
Thiru Venkatagirinilaya Jagannatha
Patuthara Nithya Vaibhavaraaya
Thiru Venkatagirinilaya Jagannatha
Thwameva Saranam Twameva Saranam
Kamalodhara Sree Jagannadha
Thwameva Saranam Twameva Saranam
Kamalodhara Sree Jagannadha
Comments
comments