August 22, 2019
Bhara Bhara Bharaate Kannada Song Lyrics Video Released | Sriimurali
Bhara Bhara Bharaate Kannada Song Lyrics Video Released | Sriimurali: Bhara Bhara Bharaate is a first single from an upcoming Kannada movie Bharaate, directed by Chethan Kumar and produced by Supreeth under the banner Sri Jagadguru Movies and Agastya Enterprises Team.
Bhara Bhara Bharaate Kannada Song Lyrics Video was released in YouTube on 8th August and it is topping the chart and  it crossed a 1 Million views in YouTube. Aananda Audio Video is the record label of this movie.
Bhara Bhara Bharaate Kannada Song Lyrics Video starts with a announcement from Sriimurali holding a megaphone, which goes like this – 'This song is dedicated to all depressed people'. The video has some pics of Sriimurali, Sadhu Kokila, Rachitaram, Sree Leela dancing to the song.
The video also has few making of the song clips and dance rehearsals. There is small clip of recording of the song in which Sriimurali and Arjun Janya can be seen. Mohan is the choreographer of this song. We can get a glimpse of few impressive dance moves.
The song has colorful sets designed by art director Mohan B Kere and lot of dancers in it. Girsh R Gowda's  cinematography has captured the song in all its color and grandness supported by the art director. Deepu S Kumar is
the editor of this film.
This song was rendered by actor Sriimurali himself along with Backing Vocals of Shashank Sheshagiri and Indu
Nagaraj. Male Chorus team of this song were Jithin, Ranjith Unni, Shenbagaraj, Deepak, Aniruddha Sastry, and Sunil Gujagonda. Sriimurali has done a good job as a singer in this song.
This title song was composed by one of the sort after music director in Kannada right now – Arjun Janya. Bhara Bhara Bharaate Kannada Song Lyrics was written by director Chethan Kumar himself. He was a lyricist before becoming a director and he continues to write lyrics.
Recently he won Siima 2019 Best Lyricist Award Kannada for the song Yenammi Yenammi from Ayogya. He made his debut as a lyricist in Kannada through the song 'Baite Baite' from Varadhanayaka composed by music director Arjun janya. since then he had written lot of songs. He his best known for writing intro songs for lead actors. The duo of Arjun Janya and Chethan Kumar had produced some hit numbesrs in Kannada.
He made his directorial debut in 2014 with the movie Bahaddur, starring Dhruva Sarja and Radhika Pandit in the lead role. His second film as a director was Bharjari again with Dhruva Sarja, released in 2017. The film featured Dhruva Sarja, Rachita Ram, Haripriya, Sudharani and others.
Musicians worked in this song includes Live Drums by Kishore and Vetri, Keys & Rythm Programmed by V. Sukumar, Electric Violin by Sandilya.
The technicians worked in this song includes L V Sudhakar was the Music Co Ordinator. Shiva, Prajwal Nagananda, S Chandrasekar, Amul Mithu R were Studio Engineers. Song was Mixed and Mastered by David Selvam.
Bharaate movie features Roaring Star Sriimurali, Sreeleela, Rachitaram, Sadhu Kokila, Tara, Ravi Shankar, Sai Kumar, Ayyappa P Sharma and others. One interesting fact in the casting is that the three brothers Sai Kumar, Ravi Shankar and Ayyappa P Sharma coming together for the first time to act in the same film. Rachitaram is doing a special appearance int he film. earlier she worked with director Chethan Kumar in the 2017 hit movie Bharjari.
Bhara Bhara Bharaate is usual joyful mass song that We have heard in the recent past. One more dance number from Arjun Janya. Listen to this song and enjoy.
Bharaate Trailer released in December last year created lot of anticipation among Kannada movie lovers. The movie is expected to hit the screens on September 27th clashing with one more much awaited Kannada film of the year Geetha starring Ganesh.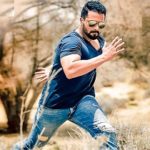 Bhara Bhara Bharaate Kannada Song
Film: Bharaate [2019]
Music Director: Arjun janya
Singer : Sriimurali
Lyrics : Chethan Kumar
Cast: Sriimurali, Sreeleela, Rachitaram
Comments
comments