January 1, 2019
Most Anticipated Kannada Movies Of 2019
Most Anticipated Kannada Movies Of 2019: Kannada film Industry known as Sandalwood is in fourth position in terms of films produced per year. Every year approximately more than 200 Kannada films were produced. There is huge expectation among fans eagerly waiting for the movies of their favorite star. This year too there is lot of movies lined up for the release. and we have made an effort to list Most Anticipated Kannada Movies Of 2019. Lets check the list..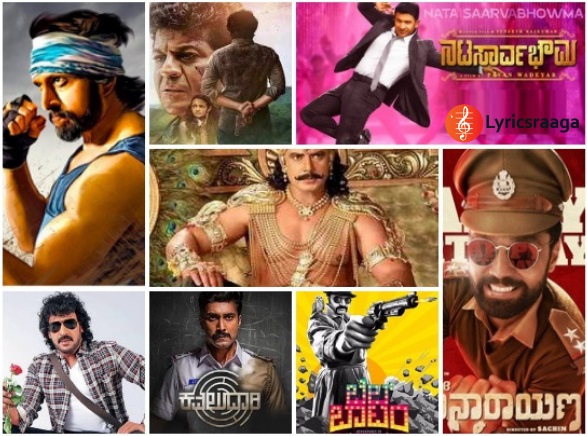 1. Kurukshetra | Darshan
Kurukshetra is on top of the list in the The higly anticipated Kannada movie category. This epic historical movie written by J. K. Bharavi is based on the poem Gadhayuddha by Ranna based on Mahabharata. The film was directed by Naganna and produced by Muniratna Naidu in a large scale. This film is speculated as one of the expensive Kannada movie.
Kurukshetra features an ensemble cast of Darshan, Ambarish, V. Ravichandran, Arjun Sarja, Nikhil Kumar, Sneha, Meghana Raj, Sonu Sood, Srinivasa Murthy, Ravishankar, Hariprriya and others. V. Harikrishna is the music director of this film. The film is planned for release in 2D and 3D formats in mid 2019.
2. Nata Sarvabhowma | Puneeth Rajkumar
Nata Sarvabhowma starring Puneeth Rajkumar is one of the much awaited Kannada Movie. It is creating lot of buzz since the release of its teaser and single track open the bottle. The film written and directed by Pavan Wadeyar and produced by Rockline Venkatesh.
Nata Sarvabhowma starcast includes Puneeth Rajkumar, Rachita Ram, Anupama Parameswaran, B. Saroja Devi, P. Ravi Shankar, Chikkanna and others. D. Imman has composed the soundtrack and background score.
3. Pailvan | Sudeep
Pailvan starring Kiccha Sudeep in a new avatar as a boxer has created lot of expectations among Kannada cine lovers. Sudeep has undergone physical transformation for this role of boxer. The film was directed by s. Krishna, who earlier directed Sudeep in Hebbuli.
Pailvan produced by marks the Kannada debut of Hindi actor Sunil Shetty. The actors of the movie are Akanksha Sing, Kabir Duhan Sing and others. The soundtrack and score of the film was composed by Arjun Janya.
4. Kotigobba 3 | Sudeep
Kiccha Sudeep's Kotigobba 3 is certainly a most expected Kannada movie of 2019. This action entertainer is directed by Shiva Karthik and produced by Soorappa Babu. Arjun Janya is the music director of this film. Kotigobba 3 stars Kiccha Sudeep, Madonna Sebastian of Premam fame, Shraddha Das, P. Ravi Shankar, N awab Shah, Aftab Shivdasani and others.
5. Avane Srimannarayana | Rakshit Shetty
Rakshit Shetty's next release Avane Srimannarayana directed by debut director Sachin Ravi, is one of the most anticipated Kannada movie of 2019 for sure. Sachin Ravi earlier worked as a Editor in the hit film Kirik Party. This film set in 80's seems like a rom-com in which Rakshit Shetty would be playing a cop role.
Music directors Charan Raj and B. Ajaneesh Loknath will score the soundtrack and background score of this film produced by Pushkara Mallikarjunaiah and H. K. Prakash. Avane Srimannarayana features Rakshit Shetty, Shanvi Srivastava, Achyuth Kumar, Pramod Shetty, Balaji Manohar and others.
6. Kavacha | Shiva Rajkumar
Kavacha is starring Shiva Rajkumar is a film to watch out for. This crime thriller is a remake of Mohanlala's Malayalam film Oppam directed by Priyadarshan. Shiva Rajkumar is doing role of a blind man in this film. Kavacha was directed by G. V. R. Vasu in his directorial debut.
The film features Shiva Rajkumar, Kruthika Jayakumar, Isha Koppikar, Baby Meenakshi, Vasishta N. Simha and others. Arjun Janya is the composer of this film. The film was produced by M. V. V. Satyanarayana and A. Sampath.
7. I Love You | Upendra
Real Star Upendra's next outing I Love You is a romantic entertainer directed and produced by R Chandru. The film stars Upendra, Rachita Ram, Sonu Gowda, Brahmanandam and others. Kiram Thotambyle has composed the songs. The bilingual movie is scheduled to be released in Kannada and Telugu on February 14, Valentines day.
8. Yajamana | Darshan
One more Darshan movie in the list of most anticipated Kannada Movies Of 2019 is Yajamana directed by Pon Kumaran. The film stars Darshan, Rashmika Mandanna, Tanya Hope, Devaraj and others. A single from the movie Shivanandi was released on the occasion of Sankranthi festival.
9. Bharaate | Srii Murali
Bharaate is the upcoming movie of actor Srii Murali of Ugram fame. This film was directed by Chethan Kumar of Bahaddur and Bharjari fame. Arjun Janya is the music director and the film was produced by Supreeth. The teaser of the movie was released few days ago created lot of buzz. The film stars Srii Murali, Sreeleea, Tara and others.
10. Bell Bottom | Rishab Shetty
Bell Bottom starring director Rishab Shetty and Hariprriya is creating lot of expectations. The was directed by Jayatheertha and produced by Santosh Kumar K C under the banner Golden Horse Cinemas. B Ajaneesh Loknath is the music director of this film. The first single Yethake was released few days ago. The other artists in the cast includes Yogaraj Bhat, Achuth Kumar, Sujay Shastry, Shivmani, PD Satish, Prakash Tuminad and others.
11. Kavaludaari | Rishi | Ananth Nag
Kavaludaari an investigative thriller attracted attention of the audience upon the relase of it teaser. The film written and directed by Hemanth M Rao was produced by Ashwini Puneeth Rajkumar of PRK Productions. The cast of Kavalu Daari includes Ananth Nag, Rishi, Suman Ranganathan, Achyuta Kumar, Roshni Prakash and others. Charan Raj has composed the music and background score for this film.
12. Panchathantrta | Vihan Gowda | Yogaraj Bhat
Director Yogaraj Bhat's next movie Panchatantra features Vihan Gowda of 1/4 KG Preethi fame, Sonal Monteiro, Akshara Gowda and others. Songs were composed by music director V. Harikrishna with lyrics written by Yogaraj Bhat. The film was produced by Hariprasad Jayanna, Hemanth Paradkar and Yogaraj Bhat himslef under the banner Yograj Cinemas, Jasp Productions and Purple Patch.
Comments
comments