June 9, 2020
Nee Hinga Nodabyada Nanna Song Lyrics | D. R. Bendre
Nee Hinga Nodabyada Nanna Song Lyrics | D. R. Bendre: Nee Hinga Nodabyada Nanna is very popular Kannada  Bhavageethe song made out of a poem written by famous Kannada poet D. R. Bendre.
Poet Da. Ra. Bendre [Dattatreya Ramachandra Bendre] was born on 31 January 1896 in Dharwad, Karnataka.  Ambikatanayadatta is his pen name. Regarded as one of the greatest poets of Kannada Literature world, He is called as 'Varakavi' by Kannada people.
He had written many Poetry collections, Plays, Criticism, Translations, and other literary works. He was awarded the Jnanpith Award in 1973 for his poetry collection 'Naaku Tanti' published in 1964.
Many of his poems were made into songs in movies and Private Albums by various composers and singers like C  Ashwath, Raju Ananthaswamy, Chinmay Athreyas, Ratnamala Prakash, B R Chaya, Sangeetha Katti, Malathi Sharma, Pancham Halibandi and various other artists.
Different versions of Nee Hinga Nodabyada Nanna song was composed by different musicians including music  director and singer C. Ashwath. The combination of C. Ashwath and Da. Ra. Bendre had produced some of the unforgettable songs and their contribution to the world of Kannada Bhavageethe is huge.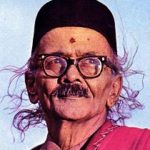 Nee Hinga Nodabyada Nanna Lyrics
Genre: Bhavageethegalu
Lyrics: D. R. Bendre
Music: Various
Singer: Various
Language: Kannada
Check out the lyrics here..
Nee Hinga Nodabyada Nanna
Nee Hinga Nodidare Nanna
Thirugi Naa Hyanga Nodale Ninna
Nee Hinga Nodabyada Nanna
Nee Hinga Nodidare Nanna
Thirugi Naa Hyanga Nodale Ninna
Samsara Sagaradaga Lekkaviradashtu Dukhada Bandi
Naa Balle Nanage Gothilladiddaru Elli Acheya Dandi
Malagiruva Koosu Malagirali Alli Mundinadu Devara Chitta
Naa Tadilare Adu Yaka Nodathi Mattha Mattha Nee Ittha
Nee Hinga Nodabyada Nanna
Nee Hinga Nodidare Nanna
Thirugi Naa Hyanga Nodale Ninna
Tambala Hakada Tumba Kempu Gini Gadaka Hannina Hanga
Iddantha Thutiya Bannetta Haritu Yava Galige Hinga?
E Gattagalla Hani Kannu Kandu Marige Mariya Reethi
Savana Tanna Kye Savaritilli Bantenaga Illada Bheethi
Nee Hinga Nodabyada Nanna
Nee Hinga Nodabyada Nanna
Nee Hinga Nodidare Nanna
Thirugi Naa Hyanga Nodale Ninna
Ibbani Toledaru Halau Mettida Kavali Kanthiya Hannu
Hole Holeva Haanga Kanniruva Hennu Helu Ninnavena Ee Kannu
Digilaagi Annatada Jeeva Ninna Kannare Kandu Ommigila
Hunnimi Chandirana Hena Bantho Mugilaaga Thelata Hagala
Nee Hinga Nodabyada Nanna
Nee Hinga Nodidare Nanna
Tirugi Na Hyanga Nodale Ninna
Ninna Kanninaga Kaloori Maleyu Nada Nadaka Huchchu Nagi Yaka
Hani Odeyalikke Bandanta Moda Tadadhanga Gaaliya Nevaka
Attare Attu Bidu Honalu Barali Nakyaka Marasathi Dnee Dukha
Ede Birisi Kedavu Birigannu Byaada Thuti Kacchi Hidiyadiru Bikka
Nee Hinga Nodabyada Nanna
Nee Hinga Nodidare Nanna
Thirugi Naa Hyanga Nodale Ninna
Comments
comments