January 9, 2018
Nenedodane America Lyrics
Nenedodane America Lyrics: Nenedodane America is a song from the 1992 Kannada movie Midida Shruthi, directed by M. S. Rajashekar and produced by S. A. Govindaraj under the banner Nirupama Art Combines. The film was a adaptation of a kannada novel of the same name written by writer Sai Suthe.The screenplay and dialogues were written by T N Narasimhan and Geethapriya.
The film features Shivarajkumar, Sudharani, Srinath and Vinaya Prasad, Shimoga Venkatesh, Pruthviraj, Bharath, Ravikiran, Devaraj, Hema Choudhary, Sundarashri, Apsara, Parvathi, Sheela, Seema, Leela Basavaraj, Bangalore Nagesh, Mandeep Roy, Naveen, Aravind and others.
Sangeetha Audio is the music label of this movie. This song was composed by Upendra Kumar with lyrics penned by Hamsalekha. Nenedodane America was rendered by S. P. Balasubrahmanyam.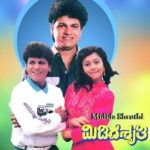 Nenedodane America Lyrics
Movie: Midida Shruthi [1992]
Music Label: Sangeetha
Music: Upendra Kumar
Lyrics: Hamsalekha
Singer: S. P. Balasubrahmanyam
Check out the lyrics here..
America Nenedodane America
Madanika Karedodane Madanika
Beku Andre Beku Anno
Beda Andre Beda Anno Manasidu
Maiyya Mele Gundu Male Bidda Melu
Gandu Kale Vayasidu
Kanasa Mari Katheya Mari
Kunidu Jagava Mari
Preethi Maado Modalu Kanna Neera Ulisiko
Hrudaya Olage Pralaya Aagabahudu Thadeduko
Meena Hejje Gurutha Hidiva Kaleya Kalithuko
Henna Kanna Olage Kulithu Jagava Thilidiko
Jaari Biladiru Cheluvina Sirige
Mosa Hogadiru Olavina Karege
Jaari Biladiru Cheluvina Sirige
Mosa Hogadiru Olavina Karege
Joke Olava Mari Cheluva Mari
Vishada Vishaya Mari
Kanasu Emba Bhramege Prema Katheya Bayakeyo
Manasu Emba Ramege Prema Jatheya Bayakeyo
Bayake Kudure Yeri Munde Horata Badukige
Jagave Bayalu Hagale Irulu Thereda Kannige
Jaari Biladiru Cheluvina Sirige
Mosa Hogadiru Olavina Karege
Jaari Biladiru Cheluvina Sirige
Mosa Hogadiru Olavina Karege
Joke Gathava Mari Pathava Mari
Parara Hithava Mari
America Nenedodane America
Madanika Karedodane Madanika
Beku Andre Beku Anno
Beda Andre Beda Anno Manasidu
Maiyya Mele Gundu Male Bidda Melu
Gandu Kale Vayasidu
Kanasa Mari Katheya Mari
Kunidu Jagava Mari
Midida Shruthi Song Lyrics
Aa Surya Chandra
Yaavudu Preethi
Nanna Ninna Aase
Bannada Okuli
Nenedodane America
Comments
comments