January 9, 2018
Nanna Ninna Aase Lyrics
Nanna Ninna Aase Lyrics: Nanna Ninna Aase is a song from the 1992 Kannada movie Midida Shruthi, directed by M. S. Rajashekar and produced by S. A. Govindaraj under the banner Nirupama Art Combines. The film was a adaptation of a kannada novel of the same name written by writer Sai Suthe.The screenplay and dialogues were written by T N Narasimhan and Geethapriya.
The film features Shivarajkumar, Sudharani, Srinath and Vinaya Prasad, Shimoga Venkatesh, Pruthviraj, Bharath, Ravikiran, Devaraj, Hema Choudhary, Sundarashri, Apsara, Parvathi, Sheela, Seema, Leela Basavaraj, Bangalore Nagesh, Mandeep Roy, Naveen, Aravind and others.
Sangeetha Audio is the music label of this movie. This song was composed by Upendra Kumar with lyrics penned by Geethapriya. Nanna Ninna Aase was rendered by S. P. Balasubrahmanyam and Manjula Gururaj.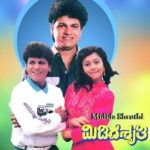 Nanna Ninna Aase Lyrics
Movie: Midida Shruthi [1992]
Music Label: Sangeetha
Music: Upendra Kumar
Lyrics: Geethapriya
Singers: S. P. Balasubrahmanyam, Manjula Gururaj
Check out the lyrics here..
Nanna Ninna Aase
Namma Prema Bhaashe
Savijeninanthe
Shruthi Seridaaga
Ade Aashageethe
Nanna Ninna Aase
Namma Prema Bhaashe
Savijeninanthe
Shruthi Seridaaga
Ade Aashageethe
Nanna Ninna Aase
Namma Prema Bhaashe
Savijeninanthe
Gandu Hennu Yendendu
Ondugoodalende
Huttithenu Ee Preethi Anuraaga
Andu Naanu Neenyaaru
Indu Naavu Onde
Ide Enu Jeevanada Vega
Yeno Yeno Kanasu Yello Yello Manasu
Prema Moodidaga Preethi Haadidaaga
Naanu Neenu Seri Heege Ondaadaaga
Nanna Ninna Aase
Namma Prema Bhaashe
Savijeninanthe
Shruthi Seridaaga
Ade Aashageethe
Nanna Ninna Aase
Namma Prema Bhaashe
Savijeninanthe
Baalu Ella Shrigandha
Sneha Paashadinda
Hita Needo Jeevanadaananda
Janma Janma Sambandha
Intha Prema Bandha
Ide Jeeva Veeneya Naada
Prema Yendu Amara Prema Yendu Madhura
Prema Namma Gaana Prema Namma Dhyana
Bhavavella Koodi Ondu Hadaadanthe
Nanna Ninna Aase
Namma Prema Bhaashe
Savijeninanthe
Shruthi Seridaaga
Ade Aashageethe
Nanna Ninna Aase
Namma Prema Bhaashe
Savijeninanthe
Shruthi Seridaaga
Ade Aashageethe
Midida Shruthi Song Lyrics
Aa Surya Chandra
Yaavudu Preethi
Nanna Ninna Aase
Bannada Okuli
Nenedodane America
Comments
comments