April 1, 2018
Gaali Gaali Nammoora Song Lyrics
Gaali Gaali Nammoora Song Lyrics: Gaali Gaali Nammoora is a song from the 1990 Kannada movie Nammoora Hammeera, directed by Peraala and written by Vijaya Bapineedu. The film was produced by B H Bucchi Reddy under the banner of M J Art Picture. Nammoora Hammeera features Ambareesh, Suman Ranganathan, Devaraj, Mukhyamantri Chandru, Umashree, Dinesh, C R Simha, Sathyajith, Hemanth Kumar, Disco Shanthi, Sadashiva Brahmavar, Janardhan, Shani Mahadevappa, Jayashree, Sathyabhama, Latha and others.
This movie is a remake of 1988 Telugu film Khaidi No.786, starring Chiranjeevi. Lahari Music was the music label of this movie. This song was written and composed by Hamsalekha. Gaali Gaali Nammoora song was rendered by S. P. Balasubrahmanyam.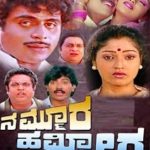 Gaali Gaali Nammoora Lyrics
Music Label: Lahari Music
Movie: Nammoora Hammeera [1990]
Music: Hamsalekha
Singers: S. P. Balasubrahmanyam
Lyrics: Hamsalekha
Check out the lyrics here..
Gaali Gaali Nammoora Gayyaali Bandalo
Sui Sui Bandalo
Bhaari Bhaari Birugaali Jotheli Thandalo
Sui Sui Thandalo
Nava Naari Idu Nari Jaathiyadu
Madaveriruva Mari Kothi Idu
Thale Nillada Moodevige
Mele Thalaku Olage Huluku
Leeyy Dingiri Dinga
Gaali Gaali Nammoora Gayyaali Bandalo
Sui Sui Bandalo
Bhaari Bhaari Birugaali Jotheli Thandalo
Sui Sui Thandalo
Koli Motte Odedu Neevalisi Haakuve
Edagai Naaku Balagai Naaku
Edagai Naaku Balagai Naaku
Porake Pooje Maadi Mai Dhoola Kudisuve
Edagade Saaku Balagade Haaku
Haaku Haaku Olag Haaku
Chigare Ninage Olage Pogare
Arere Horage Hanada Javare
Yaariguntu Yaarigilla Ninna Anda Chandavella
Henno Idu Henno
Kari Manno Idu Kanno
Uriganno Annanno
Huli Hanno Henno
Gaali Gaali Nammoora Gayyaali Bandalo
Sui Sui Bandalo
Bhaari Bhaari Birugaali Jotheli Thandalo
Sui Sui Thandalo
Aha Shabaas
Odu Kalitha Mele Kombenu Baaradu
Pogarina Bhootha Hodeyuva Gotha
Gotha Gotha Gottha Saaytha
Melu Keelu Yemba Gadi Meeri Hogade
Maanavalaagu Preethige Baagu
Baagu Baagu Thale Baagu
Arere Ninange Tharave Marule
Tharuni Ninage Gunave Nerale
… Theru Kaaru Baaru
….. Amma Ninna Joru
Hudugi Hudu Hudugi
Ninna Sahane Ninna Odave
Naya Vinaya Ninna Vijaya
Thili Thiliye Bedagi
Gaali Gaali Nammoora Gayyaali Bandalo
Sui Sui Bandalo
Bhaari Bhaari Birugaali Jotheli Thandalo
Sui Sui Thandalo
Nava Naari Idu Nari Jaathiyadu
Madaveriruva Mari Kothi Idu
Thale Nillada Moodevige
Mele Thalaku Olage Huluku
Leeyy Dingiri Dinga
Nammoora Hammeera Songs Lyrics
Kogile O Kogile Yaavura
Aaseyu Munde Munde
Ammamma Gumma
Gaali Gaali Nammoora
Kaveriya Dande
Comments
comments