April 1, 2018
Aaseyu Munde Munde Song Lyrics
Aaseyu Munde Munde Song Lyrics: Aaseyu Munde Munde is a song from the 1990 Kannada movie Nammoora Hammeera, directed by Peraala and written by Vijaya Bapineedu. The film was produced by B H Bucchi Reddy under the banner of M J Art Picture. Nammoora Hammeera features Ambareesh, Suman Ranganathan, Devaraj, Mukhyamantri Chandru, Umashree, Dinesh, C R Simha, Sathyajith, Hemanth Kumar, Disco Shanthi, Sadashiva Brahmavar, Janardhan, Shani Mahadevappa, Jayashree, Sathyabhama, Latha and others. This movie is a remake of 1988 Telugu film Khaidi No.786, starring Chiranjeevi.
Lahari Music was the music label of this movie. This song was written and composed by Hamsalekha. Aaseyu Munde Munde song was rendered by S. P. Balasubrahmanyam and Manjula Gururaj.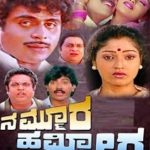 Aaseyu Munde Munde Lyrics
Music Label: Lahari Music
Movie: Nammoora Hammeera [1990]
Music: Hamsalekha
Singers: S. P. Balasubrahmanyam, Manjula Gururaj
Lyrics: Hamsalekha
Check out the lyrics here..
Aaseyu Munde Munde |2|
Preethiyu Hinde Hinde |2|
Aaseyu Munde Munde |2|
Preethiyu Hinde Hinde |2|
Sigadu Sigadu Aase Sigadu Sigadu
Bidadu Bidadu Preethi Kedadu Bidadu
Beda Beda Kaadabeda
Beda Beda Odabeda
Aaseyu Munde Munde |2|
Preethiyu Hinde Hinde |2|
Aaseyu Munde Munde |2|
Preethiyu Hinde Hinde |2|
Gulabi Innu Monne Thane Monne Thaane
Maiyyi Kayyi Thumbikondu
Kelu Kelu Ammamma
Ashtaralli Hoova Kenne Muththuvudu
Nyayavenu Helu Helu Helu
Hoovina Gandha Thannanthaane
Thannanthaane Beeruvaaga
Hinde Bande Helu Helu
Hoovina Andavidu Baaduvuda
Kaayuvudu Nyaya Thaane Helu Helu Helu
Vasanthavu Eegale Hogodilla
Besigeyu Baroke Bidodilla
Ninna Hoovu Yendigu Baadodilla
Bidadu Bidadu Preethi Bidadu Bidadu
Sigadu Sigadu Aase Sigadu Sigadu
Beda Beda Odabeda
Beda Beda Kaadabeda
Aaseyu Munde Munde |2|
Preethiyu Hinde Hinde |2|
Aaseyu Munde Munde |2|
Preethiyu Hinde Hinde |2|
Suggiya Kaala Eega Thaane Eega Thaane
Kogilege Ninna Haadu Helu Helu
Haadige Naane Thane Thaala Mela
Gejje Katti Kunisa Bande Kelu Kelu Kelu
Kogileyadu Thannanthaane Thannanthaane
Haadabeku Koogabeku Kelu Kelu Ammamma
Ashtralli Gejje Katti Thaala Kutta Bedavayya
Thaalu Thaalu Thaalu
Raagakintha Mundide Thaalaveega
Haaduvudu Yellinda Helu Eega
Madyadalle Seriko Baare Bega
Sigadu Sigadu Aase Sigadu Sigadu
Bidadu Bidadu Preethi Kedadu Bidadu
Beda Beda Kaadabeda
Beda Beda Odabeda
Aaseyu Munde Munde |2|
Preethiyu Hinde Hinde |2|
Aaseyu Munde Munde |2|
Preethiyu Hinde Hinde |2|
Sigadu Sigadu Aase Sigadu Sigadu
Bidadu Bidadu Preethi Bidadu Bidadu
Beda Beda Kaadabeda
Beda Beda Odabeda
Nammoora Hammeera Songs Lyrics
Kogile O Kogile Yaavura
Aaseyu Munde Munde
Ammamma Gumma
Gaali Gaali Nammoora
Kaveriya Dande
Comments
comments