October 7, 2017
Kannige Kaanada Lyrics
Kannige Kaanada Lyrics: Kannige Kaanada is a super hit song from the 1987 Kannada movie Olavina Udugore, directed, written and co-produced by D. Rajendra Babu. Olavina Udugore features Ambareesh, Ilavarasi(Manjula Sharma), Leelavathi, Ramakrishna, Balakrishna, Dinesh, N. S. Rao, Umashree and others. Sangeetha Music is the music label of this movie. This song was composed by M. Ranga Rao with lyrics penned by R. N. Jayagopal. Kannige Kaanada was rendered by S. P. Balasubrahmanyam.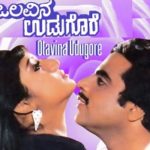 Kannige Kaanada Lyrics
Movie: Olavina Udugore [1987]
Music Label: Sangeetha
Music: M. Ranga Rao
Lyrics: R. N. Jayagopal
Singer: S. P. Balasubrahmanyam
Check out the lyrics here..
Kannige Kaanada Naatakakaara
Ninage Nanna Namaskaara
Paatragalalli Thiruvugalenitho
Paatragalalli Thiruvugalenitho
Ballave Neene Soothradhaara.. Aa..
Kannige Kaanada Naatakakaara
Ninage Nanna Namaskaara
Shishuve Jogula Haaduvudu
Irulali Sooryanu Thoruvanu
Mahimane Nee Nenedaaga
Badava Ballida Aaguvanu
Kurudanu Ellava Noduvanu
Avanali Nee Olidaaga
Nenedadu Ella Nadede Hodare
Devane Ninage Beleyelli..
Nadeyuvudella Muncheye Thilidare
Maanava Garvake Mithiyelli
Man Proposes God Disposes
Kannige Kaanada Naatakakaara
Ninage Nanna Namaskaara
Premigalanu Berpadisi
Noothana Jodiya Serisuve
Gombeya Reethi Aadisuve
Maavige Bevina Ruchi Beresi
Naalige Adanu Anubhavisi
Heeruva Haage Maadisuve
Maanavanaagi Hutti Nee Bandare
Kashatada Artha Nee Thilive..
Premisi Neenu Virahadi Bendare
Nammaya Novanu Nee Arive
They Say Love Is God
But I Say
God Doesn't Know Anything About Love
Kannige Kaanada Naatakakaara
Ninage Nanna Namaskaara
Olavina Udugore Songs
Olavina Udugore
Kannige Kaanada
Ninnantha Cheluveyanu
Hrudaya Miditha
Save
Save
Save
Comments
comments