July 6, 2018
Nanna Aase Hannaagi Lyrics | Auto Raja
Nanna Aase Hannaagi Lyrics | Auto Raja: Nanna Aase Hannaagi is a Kannada song from the movie Auto Raaja [Auto Raja], directed by Vijay. The film was produced by C. Jayaram under the banner Sapthaswara Movie Makers. The film was released in 1980 featuring Shankar Nag, Gayathri, Dwarakish, Balakrishna, Thoogudeepa Srinivas, Sundar Krishna Urs, Tiger Prabhakar, Leelavathi, Musuri Krishnamurthy, Padma, K. S. Ashwath, Papamma and others. This movie was remade in Tamil with same name starring Vijayakanth in 1982.
Saregama was the music label of this movie. All songs of this movie were composed Rajan-Nagendra with the lyrics penned by Chi. Udayashankar. Nanna Aase Hannaagi song was rendered by one of the greatest singers of all time S. P. Balasubrahmanyam and S. Janaki.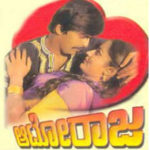 Nanna Aase Hannaagi Lyrics
Movie: Auto Raaja [1980]
Music Label: Saregama
Music: Rajan-Nagendra
Lyrics: Chi. Udayashankar
Singers: S. P. Balasubrahmanyam, S. Janaki
Check out the lyrics here..
Nanna Aase Hannaagi
Nanna Baala Kannaade
Manavanu Seride
Santhosha Thumbide
Aa Haa Aa A Aa Aa
Nanna Aase Hannaagi
Nanna Baala Kannaade
Nanna Aase Hannaagi
Nanna Baala Kannaade
Manavanu Seride
Santhosha Thumbide
Nanna Aase Hannaagi
Nanna Baala Kannaade
Kanasugalu Saviganasugalu
Ninninda Nanasaagide
Ninna Jothe Seri
Sukhaveno Naa Kande Inde
Maathugalu Savimaathugalu
Muththante Sogasaagide
Ninna Jote Seri
Olaveno Naa Kande Inde
Oh Geleya Nanniniya
Ninnaase Nannaase Ondene Innendigu
Nanna Aase Hannaagi
Nanna Baala Kannaade
Nanna Aase Hannaagi
Nanna Baala Kannaade
Manavanu Seride
Santhosha Thumbide
Nanna Aase Hannaagi
Nanna Baala Kannaade
Kanninali Kanna Minchinali
Ee Jeeva Thelaadide
Heege Iruvaase
Hoovalli Naa Dumbiyanthe
Snehadali Ninna Mohadali
Nanagindu Hithavaagide
Heege Iruvaase
Haayaagi Marethella Chinthe
O Gelati Nannarasi Innantu
Endendu Naa Ninna Bidalaarenu
Nanna Aase Hannaagi
Nanna Baala Kannaade
Nanna Aase Hannaagi
Nanna Baala Kannaade
Manavanu Seride
Santhosha Thumbide
Comments
comments