February 22, 2019
Haayagi Kulithiru Neenu Song Lyrics | Haalu Jenu
Haayagi Kulithiru Neenu Song Lyrics | Haalu Jenu: Haayagi Kulithiru Neenu is a hit song from the 1982 Kannada movie Haalu Jenu featuring Dr. Rajkumar, Madhavi, Roopa Devi, Thoogudeepa Srinivas, Shivaram, Musuri Krishnamurthy, Shakthi Prasad, Chi. Udayashankar, Chandrashekar, Shivaprakash, Umesh, Sudarshan, Dakshinachar, Manju, Nagaraj, Thimmayya, Yathiraja, Gopal, Papamma, Saraswathi, Janaki, Mallika, Latha, Kamanidharan, Sudha Sindur, Guljar, Sunanda, Baby Sangeetha and others.
The film marks the Kannada debut of famous director Singeetham Srinivasa Rao. The story of the movie was written by P. Padmaraju and screenplay was penned by Singeetham Srinivasa Rao. Haalu Jenu was produced by Smt Parvathamma Rajkumar under the banner Poornima Enterprises. The film was remade in Telugu as Illale Devatha [1985] starring Akkineni Nageswara Rao, Raadhika, Bhanupriya and others.
Haayagi Kulithiru Neenu Song was composed by Music director G. K. Venkatesh and written by famous Kannada lyricist Chi. Udayashankar. This song was rendered by Dr. Rajkumar and Saritha. Sangeetha is the music label of this movie.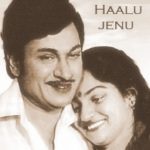 Haayagi Kulithiru Neenu Lyrics
Movie: Haalu Jenu [1982]
Music Label: Sangeetha
Composed By: G. K. Venkatesh
Written By: Chi. Udaya Shankar
Vocals: Rajkumar, Saritha
Check out the lyrics here..
Male: Le Le
Female: Enri
Male: Ondu Maathu
Female: Heli
Male: Helidre Kelthiya
Female: Nim Maathu Yaavag Kelilla
Male: Haagaadre Aa Paathre Allidu
Female: Hoon Itte
Male: Baa Illi
Female: Hm
Male: Baare Andre
Female: Hm
Male: Kuthko Ee Manchada Mele
Female: Hm Endri Idu Ishtothanalli
Male: Ayyo Adhak Alve
Haayaagi Kulithiru Neenu
Raniya Haage Maharaniya Haage
Female: Mane Kelsa Yaar Ri Maadodu? Nim Maavana?
Aayasa Padadiru Innu Koogutha Heege
Ella Kelsa Maadi Mugisuve
Neene Aaga Mecchi Kolluve
Pabababam Pababam Pababam
Haayaagi Kulithiru Neenu
Raniya Haage Maharaniya Haage
Female: Ayyayyo Endri Idhu Avathara?
Gandsaagi Hutti Neevu Adige Maadtheera
Hm Hm Bheemasena Nala Maharajaru Gandasarallave
Bheemasena Nala Maharajaru Gandasarallave
Nanna Haage Meese Hottha Mahaniyarallave
Mahaniyarallave
Nenneya Thanaka Neene Dhudide
Ee Samsaarake Jeeve Thedhe
Ee Dinavaadaru Ninna
Seveya Maaduve Chinna
Pabababam Pababam Pababam
Haayaagi Kulithiru Neenu Raniya Haage
Maharaniya Haage
Aayasa Padadiru Innu Koogutha Heege
Ella Kelsa Maadi Mugisuve
Neene Aaga Mecchi Kolluve
Thararam Thararam Thararam
Female: Yaak Yaakri Kanneeru
Male: Idhu Kanneeralve Panneeru Panneeru
Chinnadantha Hendathi Iralu Kannerethake
Chinnadantha Hendathi Iralu Kannerethake
Manasanu Arithu Nadeyuthaliralu Chintheya Maatheke
Nee Naguthiralu Nannee Manege
Aa Swargave Jaaridanthe
Hendathi Sevaki Alla
Gandanu Devaru Alla
Pabababam Pababam Pababam
Haayaagi Kulithiru Neenu
Raniya Haage Maharaniya Haage
Aayasa Padadiru Innu Koogutha Heege
Ella Kelsa Maadi Mugisuve
Neene Aaga Mecchi Kolluve
Pabababam Pababam Pababam
Haalu Jenu [1982] Songs
Aaneya Mele Ambaari Kande
Haayagi Kulithiru Neenu
Haalu Jenu Ondada Haage
Baalu Belakayithu
Pogaadirelo Ranga
Comments
comments