February 22, 2019
Aaneya Mele Ambaari Kande Song Lyrics | Haalu Jenu
Aaneya Mele Ambaari Kande Song Lyrics | Haalu Jenu: Aaneya Mele Ambaari Kande is a hit song from the 1982 Kannada movie Haalu Jenu featuring Dr. Rajkumar, Madhavi, Roopa Devi, Thoogudeepa Srinivas, Shivaram, Musuri Krishnamurthy, Shakthi Prasad, Chi. Udayashankar, Chandrashekar, Shivaprakash, Umesh, Sudarshan, Dakshinachar, Manju, Nagaraj, Thimmayya, Yathiraja, Gopal, Papamma, Saraswathi, Janaki, Mallika, Latha, Kamanidharan, Sudha Sindur, Guljar, Sunanda, Baby Sangeetha and others.
The film marks the Kannada debut of famous director Singeetham Srinivasa Rao. The story of the movie was written by P. Padmaraju and screenplay was penned by Singeetham Srinivasa Rao. Haalu Jenu was produced by Smt Parvathamma Rajkumar under the banner Poornima Enterprises. The film was remade in Telugu as Illale Devatha [1985] starring Akkineni Nageswara Rao, Raadhika, Bhanupriya and others.
Aaneya Mele Ambaari Kande Song Lyrics were penned by famous Kannada lyricist Chi. Udayashankar. Music director G. K. Venkatesh composed this song. This song was rendered by Dr. Rajkumar and Sulochana. Sangeetha is the music label of this movie.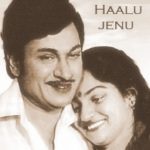 Aaneya Mele Ambaari Kande Lyrics
Movie: Haalu Jenu [1982]
Music Label: Sangeetha
Composed By: G. K. Venkatesh
Written By: Chi. Udaya Shankar
Vocals: Rajkumar, Sulochana
Check out the lyrics here..
Aaneya Mele Ambaari Kande
Ambaari Olage Ninnannu Kande
Nanne Naa Kande Pakkadali Nanne Naa Kande
Pakkadali Nanne Naa Kande
Aaneya Mele Ambaari Kande
Ambaari Olage Ninnannu Kande
Nanne Naa Kande
Pakkadali Nanne Naa Kande
Pakkadali Nanne Naa Kande
Aramane Naanu Kande Hm
Olagade Ninna Kande Oho
Aramane Naanu Kande
Olagade Ninna Kande
Jotheyalli Nannanne Naanu Kande
Aaha Aaneya Mele Ambaari Kande
Ambaari Olage Ninnannu Kande
Nanne Naa Kande Pakkadali
Nanne Naa Kande Pakkadali
Nanne Naa Kande
Brundavanadali
Neerina Chilume Kande
Bannada Belakalli
Naliva Ninna Kande
Ninna Nadu Balasi
Nintha Nanne Kande
Ninna Nadu Balasi
Nintha Nanne Kande
Belooru Gudiyalli
Hennina Bombe Kande
Avala Andha Kandu
Sothu Mohagondu
Nintha Ninna Kande
Aha Aaneya Mele Ambaari Kande
Ambaari Olage Ninnannu Kande
Nanne Naa Kande Pakkadali
Nanne Naa Kande Pakkadali
Nanne Naa Kande
Aramane Naanu Kande
Olagade Ninna Kande..
Aramane Naanu Kande
Olagade Ninna Kande
Jotheyalli..
Nannanne Naanu Kande
Shri Ranga Pattanadi
Rangana Gudiya Kande
Shri Ranganathanante
Malagidda Ninna Kande
Shri Deviyanthe Ninna
Saniha Nanne Kande
Shrideviyanthe Ninna
Saniha Nanne Kande
Haalina Kadalinda
Banda Ninna Kande
Edheya Gudiyalli
Ninna Sere Haaki
Naliva Nanne Kande
Aha Aaneya Mele Ambaari Kande
Ambaari Olage Ninnannu Kande
Nanne Naa Kande Pakkadali Nanne Naa Kande
Pakkadali Nanne Naa Kande
Aramane Naanu Kande
Olagade Ninna Kande
Jotheyalli.. Nannanne Naanu Kande
Aaneya Mele.. Ambaari Kande..
Baagila Baliyalli.. Officer Kande
Enappa Maadodhu
Haalu Jenu [1982] Songs
Aaneya Mele Ambaari Kande
Haayagi Kulithiru Neenu
Haalu Jenu Ondada Haage
Baalu Belakayithu
Pogaadirelo Ranga
Comments
comments