October 26, 2018
Orangeu Orangeu Kannada Song Lyrics | Orange
Orangeu Orangeu Kannada Song Lyrics | Orange: Orangeu Orangeu is a Kannada song from an upcoming 2018 Kannada movie Orange, directed by Prashant Raj. The film was produced by Naveen under the banner Nimma Cinima. Orange Kannada movie features Golden Star Ganesh, Priya Anand, Sadhu Kokila and others. Santhosh Rai is the director of photography.
Pallavi Audio is the record label of this album. This song was composed by SS Thaman. The lyrics of this song were written by Kavi Raj. Orangeu Orangeu Kannada Song was rendered by Rahul Siplingunj.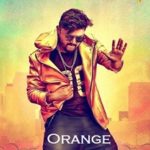 Orangeu Orangeu Lyrics
Album: Orange [2018]
Record Label: Pallavi Audio
Music by: SS Thaman
Lyrics by: Kaviraj
Singer: Rahul Siplingunj
Check out the lyrics here..
Gold Gold Gold Orange Gold Gold Gold Gold
Gold Gold Gold Orange Gold Gold Gold Gold
Left Inda Right Inda Front Inda Back Inda
Nodkoli Ella Nanna
Gumpalli Govinda Agalla Ee Kanda
Guri Itre Onde Gunna
Huttiddu Adakmaarnahallili
Belediddu Bengalooralli
Nanaganthu Raaja Naanilli
Nangilla Yara Hangilli
Gold Gold Gold Orange Gold Gold Gold Gold |2|
Orangeu Orangeu
Altene Sigta Illa
Nande Bere Range
Orange-U Orange-U
Ee Nanna Hearte
Thumba Thumba
Ne Sweet Orange
Orange-U Orange-U
Altene Sigta Illa
Nande Bere Range
Orange-U Orange-U
Ee Nanna Hearte
Thumba Thumba
Ne Sweet Orange
Left Inda Right Inda Front Inda Back Inda
Nodkoli Ella Nanna
Gumpalli Govinda Agalla Ee Kanda
Guri Itre Onde Gunna
Kallano Sullano Kaasu Bisaku
Aaga Ninge Illi Sikkapatte
Bahuparaku
Mooru Dina Jeevana
Alukupulku
Oddaata Inyathako
Huttiddu Adakmaarnahallili
Belediddu Bengalooralli
Nanaganthu Raaja Naanilli
Nangilla Yara Hangilli
Gold Gold Gold Orange Gold Gold Gold Gold |2|
Orangeu Orangeu
Altene Sigta Illa
Nande Bere Range
Orange-U Orange-U
Ee Nanna Hearte
Thumba Thumba
Ne Sweet Orange
Comments
comments