April 13, 2018
Deva Mahadeva Lyrics
Deva Mahadeva Lyrics:  Deva Mahadeva is a song from the 1988 Kannada movie Shiva Mecchida Kannappa, directed by Vijay. The film was produced by S A Govindaraj and Raghavendra Rajkumar under the banner Bhagavathi Combines. This film was inspired from the 1959 Kannada film Bedara Kannappa, which marked the debut of Dr. Rajkumar.
Shiva Mecchida Kannappa features Shivarajkumar, Dr. Rajkumar, Puneeth Rajkumar, Geetha, C. R. Simha, Balaraj, Saraladevi, Doddanna, Shankar Patil, Honnavalli Krishna, Sathyajith, Bhatti Mahadevappa, Seetharam, Padma Kumata, Sangeetha, Priya, Srishailan, Kamalashree, Shyamala and others.
Lahari Music is the music label of this movie. This song was composed by T. G. Lingappa with lyrics written by Chi. Udaya Shankar. Deva Mahadeva song was rendered by singer S. P. Balasubrahmanyam.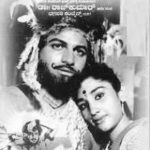 Deva Mahadeva Lyrics
Movie: Shiva Mecchida Kannappa [1988]
Music Label: Lahari Music
Music: T. G. Lingappa
Lyrics: Chi. Udaya Shankar
Singer: S. P. Balasubrahmanyam
Check out the lyrics here..
Deva Mahadeva
Deva Mahadeva
Neene Nana Jeeva
Bidalaare Paadhavaa
Deva Mahadeva
Deva Mahadeva..
Yellidde Naanu Hegidde Naanu
ellidde Naanu Hegidde Naanu
Nambalu Ninna Yenaade Naanu
Kannali Neenu Manasali Neenu
Kannali Neenu Manasali Neenu
Heegiruvaaga Yenaadarenu
Sudali Dehava
Uriva Benkiyu
Ninna Bereyali Nanna Jeevavu
Deva Mahadeva
Deva Mahadeva..
Kailaasavanthe Bhoolokavanthe
Kailaasavanthe Bhoolokavanthe
Vaahana Ninage Ee Nandiyanthe
Shivaraathriyanthe Nava Raathriyanthe
Shivaraathriyanthe Nava Raathriyanthe
Yethake Beku Aa Yella Chinthe
Ninna Nodida Nodi Haadida Yella Rathri Shivarathriye
Aado Maathu Shiva Manthradantheye
Bere Yenanu Ariye Thandeye
Appa Amma Nanagilla Ninna Bittu Berilla
Jataadara Gangaadhara
Natesha Geereeshaaa Maheshaaa…
Shiva Mecchida Kannappa Songs
Kanninda Nee Baana
Kannilla Kiviyilla
Deva Mahadeva
Mella Mellane Bandane
Maayeya Thareyanu
Ellaru Maduvudu Hottegaagi
Comments
comments