July 21, 2018
Onti Ontiyagiruvudu Lyrics | Baava Baamaida
Onti Ontiyagiruvudu lyrics | Baava Baamaida : Onti Ontiyagiruvudu is a famous song from the 2001 Kannada movie Baava Baamaida directed by Kishore Sarja. The film was produced by Ramu under the banner of Ramu Enterprises. Baava Bhamaida is based on the Tamil language film Pandithurai (1992) directed by Manoj Kumar.
The film was released in 2001 starring Shiva Rajkumar, Rambha, Prakash Rai, Vinaya Prasad, Jayanthi, Loknath, Sadhu Kokila, Doddanna, Karibasavaiah and others.
Akash Audio was the music label of this movie. This song was composed and written by Nadha Brahma Hamsalekha. Onti Ontiyagiruvudu song was rendered by S. P. Balasubrahmanyam, K. S. Chithra.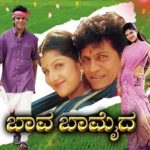 Onti Ontiyagiruvudu Lyrics | Baava Baamaida
Movie: Baava Baamaida [2001]
Music Label: Akash Audio
Music: Hamsalekha
Lyrics: Hamsalekha
Singers: S. P. Balasubrahmanyam, K. S. Chithra
Check out the lyrics here…
Onti Ontiyagiruvudu .. Onti Ontiyagiruvudu …
Onti Ontiyagiruvudu Boro Boru Boru Boro Boru
Boro Boru Boru Boro Boru
Besara Kaleyalu Athura Aragalu
Priyana Sannidhi Kshemavo
Onti Ontiyagiruvudu Boro Boru Boru Boro Boru
Boro Boru Boru Boro Boru
Praayada Kaatake Preethiya Aatake
Priyala Sannidhi Kshemavo
Onti Ontiyagiruvudu Boro Boru Boru Boro Boru
Boro Boru Boru Boro Boru
Gadi Daatalu Appane Illa
Mithi Meeralu Oppige Illa
Daatadanthe Meeruva Meeradanthe Daatuva
Neerolage Mulugada Haage
Ale Mele Thelutha Heege
Seralendu Eejuva Eejadanthe Seruva
Kattupaadu Paalisi Gattiyaagi Bandhisi
Muththu Maathra Sevisi Arda Undu Saarisi
Hasidu Irabahude Vinaha
Onti Ontiyagiruvudu Boro Boru Boru Boro Boru
Boro Boru Boru Boro Boru
Besara Kaleyalu Athura Aragalu
Priyana Sannidhi Kshemavo
Onti Ontiyagiruvudu Boro Boru Boru Boro Boru
Boro Boru Boru Boro Boru
Kivi Hahthira Pisa Pisa Antha
Olagiliyo Hunnime Antha
Priyana Maathu Needuva Kachaguliye Chanda
Yede Haththira Busu Busu Antha
Usiralle Bisi Idu Antha
Priyala Mogavu Needuva Kalaravave Chanda
Ondu Maathu Aadade Bere Yellu Nodade
Yenu Maada Thochade Bittu Hogalaarade
Naraluthirabahude Vinaha
Onti Ontiyagiruvudu .. Onti Ontiyagiruvudu …
Onti Ontiyagiruvudu Boro Boru Boru Boro Boru
Boro Boru Boru Boro Boru
Besara Kaleyalu Athura Aragalu
Priyana Sannidhi Kshemavo
Onti Ontiyagiruvudu Boro Boru Boru Boro Boru
Boro Boru Boru Boro Boru
Baava Baamaida [2001] Songs:
Preethi Neenillade Naanu Hegirali
Onti Ontiyagiruvudu
Benna Hinde Neenu Bande – K. S. Chithra
Jangal Hakki Jangal Hakki Baa
Yavvi Yavvi Yavvi 
Benna Hinde Bande Nee – B. Jayashree
Comments
comments