July 21, 2018
Jangal Hakki Lyrics | Baava Baamaida
Jangal Hakki lyrics | Baava Baamaida : Jangal Hakki Jangal Hakki Baa is a song from the 2001 Kannada movie Baava Baamaida directed by Kishore Sarja. The film was produced by Ramu under the banner of Ramu Enterprises. Baava Bhamaida is based on the Tamil language film Pandithurai (1992) directed by Manoj Kumar.
The film was released in 2001 starring Shiva Rajkumar, Rambha, Prakash Rai, Vinaya Prasad, Jayanthi, Loknath, Sadhu Kokila, Doddanna, Karibasavaiah and others.
Akash Audio was the music label of this movie. This song was composed and written by Nadha Brahma Hamsalekha. Jangal Hakki song was rendered by Radhika Tilak.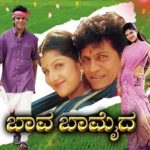 Jangal Hakki Lyrics | Baava Baamaida
Movie: Baava Baamaida [2001]
Music Label: Akash Audio
Music: Hamsalekha
Lyrics: Hamsalekha
Singers: Radhika Tilak
Check out the lyrics here…
Oo Jangal Hakki Jangal Hakki Baa
Oo Single Hakki Single Hakki Baa
Oo Jampar Hakki Ooo Bumper Hakki
Oo Super Hakki Duper Hakki Baa
Oo Jangal Hakki …. Duper Hakki Baa
Money Money Kanya Mani
Money Money Bhama Mani
Money Money Naari Mani
Money Money Chinthamani
Oo Jangal Hakki Jangal Hakki Baa
Oo Single Hakki Single Hakki Baa
Oo Jampar Hakki Ooo Bumper Hakki
Oo Super Hakki Duper Hakki Baa
Heyy Kaaviyadaru Sai
Khakiyaadaru Sai
Khadiyaadaru Sai
Gosiyaadaru Sai
Battegilli Bele Illa Hottegilli Bele Illa
Kanthe Kalile Beku Ella
Biliyanadari Sai
Karianadaru Sai
Longu Adaru Sai
Chotu Adaru Sai
Note-U Thumbabeku Mancha
Note-U Thumbabeku Mancha
Kosare Illa Illi Koncha Hoooo
Avalakki Avalakki Pavalakki Pavalakki
Aase Paase Maadabeda Baa
Oo Jangal Hakki Jangal Hakki Baa
Oo Single Hakki Single Hakki Baa
Oo Jampar Hakki Ooo Bumper Hakki
Oo Super Hakki Duper Hakki Baa
Money Money Kanya Mani
Money Money Bhama Mani
Money Money Naari Mani
Money Money Chinthamani
Oo Jangal Hakki …. Duper Hakki Baa
Hey Anjabaradu Sai
Ginjabaradu Sai
Akalisutha Sai
Malagabaaradu Sai
Purushanenisabeku Khathri
Purushanenisabeku Khathri
Niddegedisabeku Raathri
Kachchabaradu Sai
Chivutabaaradu Sai
Hoovu Embuda Mareyabaradu
Vishya Thilisabeku Khachitha
Vishya Thilisabeku Khachitha
Avanigomme Naanu Uchitha Hoooo
Avalakki Avalakki Pavalakki Pavalakki
Aase Paase Maadabeda Baa
Oo Jangal Hakki …. Duper Hakki Baa
Haan Money Money Kanya Mani
Money Money Bhama Mani
Eeyyye Money Money Naari Mani
Money Money Chinthamani Hooooo
Oo Jangal Hakki Jangal Hakki Baa Aha
Oo Single Hakki Single Hakki Baa Oho
Oo Jampar Hakki Ooo Bumper Hakki
Oo Super Hakki Duper Hakki Baa
Baava Baamaida [2001] Songs:
Preethi Neenillade Naanu Hegirali
Onti Ontiyagiruvudu
Benna Hinde Neenu Bande – K. S. Chithra
Jangal Hakki Jangal Hakki Baa
Yavvi Yavvi Yavvi 
Benna Hinde Bande Nee – B. Jayashree
Comments
comments