August 14, 2022
Barayya Ba Ba Bakutara Priya Lyrics
Barayya Ba Ba Bakutara Priya Lyrics: Barayya Ba Ba Bakutara Priya is a popular Kannada devotional song about 'Saint Sri Raghavendra Swamy', composed by by Sri Gopala Dasaru. Gopala Dasa was a prominent poet and saint of 18th century Haridasa movement.
Gopaladasa was the contemporary of Vijaya Dasa and Jagannatha Dasa of Haridasa tradition. He propagated the Dwaitha philosophy through his Kirtans or Dasara Padagalu in Kannada language. He was Gopala Vittala was his Ankita Nama [Pen Name].
Sri Raghavendra Tirtha [Sri Raghavendra Swamy] was a renowned Hindu Saint, and Scholar belonging to Madhwacharya's Dvaitha Vedanta philosophy. He was also known as Sudha Parimalacharya.
His works includes commentaries on the works of Sri Madhvacharya, Jayatirtha and Vyasatirtha, interpretation of the Principal Upanishads from the standpoint of Dvaita and a treatise on Purva Mimamsa. He served as the pontiff of matha at Kumbakonam from 1624 to 1671.
Sri Raghavendra swamy was also an accomplished player of the Veena and he composed several songs under the name of Venu Gopala. His shrine at Mantralayam attracts thousands of visitors every year.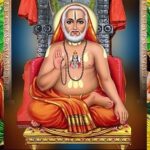 Barayya Ba Ba Bakutara Priya Lyrics
Composer: Gopala Dasaru
Genre: Devotional / Dasara Padagalu
Language: Kannada
Lord: Raghavendra Swamy
Singers: Various
Check out 'Barayya Ba Ba Bakutara Priya Lyrics' here..
Vaarijalayapathe Vaarijanaabane
Vaarijabavapitha Vaarijanethrane
Vaarijamitra Apaaraprabavane
Vaarija Jaandada Kaarana Doreye
Baraiyya Ba Ba Bakutara Priya Srinivasa Raya
Maara Janaka Mukutharodeya Devaiyya Jeeya
Syamdanaveribappa Ranga Devotthunga
Nanda Nandana Arimadhabhanga Karunapanga
Sindhu Shayana Sundaranga Hey Narasinga
Kanda Virinchiyu Nandi Vahana Amarendra
Sanaka Sanandanaadi Muni
Vrunda Bandu Nindu Dhim Dhim Dhimikendu
Nindadalu Anandadi Manake
Jagath Janmaadi Kartha Govinda
Udaradi Loka Laghuvaagi Dharisida Mukunda
Bakuthara Manake Jaga Jagisutha
Polevananda Nigamaavaliyinda
Aganitha Munigana Naga Kaga Mruga Sasi
Gagana Manyadyaru Sogasagi Bage Bage
Pogaluthali Bega Jigijigidadalu
Mugulunageya Maha Uragagirivasa
Thadamaada Byadavo Hey Nalla
Vaaku Laalisu Ennodeya Gopala Vittala
Deva Paraaku Adi Idu Bhaktavathsala Sri Lakuminalla
Maduvinolage Gaja Moreyidalakshana
Madadhige Helade Dudadudane Bandu
Hididu Nakrana Baaya Kadidu Bidisidane
Sadagaradali Ramepodaviyodagoodi Bega
Rathavanerida Raghavendra Song Lyrics | Gopaladasara Keerthanegalu 5
Raghavendra Raghavendra Yenniri Lyrics | Dr. Rajkumar Devotional Songs
Comments
comments