April 13, 2018
Kannilla Kiviyilla Lyrics
Kannilla Kiviyilla Lyrics:  Kannilla Kiviyilla is a song from the 1988 Kannada movie Shiva Mecchida Kannappa, directed by Vijay. The film was produced by S A Govindaraj and Raghavendra Rajkumar under the banner Bhagavathi Combines. This film was inspired from the 1959 Kannada film Bedara Kannappa, which marked the debut of Dr. Rajkumar.
Shiva Mecchida Kannappa features Shivarajkumar, Dr. Rajkumar, Puneeth Rajkumar, Geetha, C. R. Simha, Balaraj, Saraladevi, Doddanna, Shankar Patil, Honnavalli Krishna, Sathyajith, Bhatti Mahadevappa, Seetharam, Padma Kumata, Sangeetha, Priya, Srishailan, Kamalashree, Shyamala and others.
Lahari Music is the music label of this movie. This song was composed by T. G. Lingappa with lyrics written by Chi. Udaya Shankar. Kannilla Kiviyilla song was rendered by singer S. P. Balasubrahmanyam.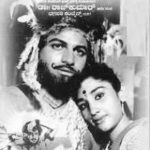 Kannilla Kiviyilla Lyrics
Movie: Shiva Mecchida Kannappa [1988]
Music Label: Lahari Music
Music: T. G. Lingappa
Lyrics: Chi. Udaya Shankar
Singer: S. P. Balasubrahmanyam
Check out the lyrics here..
Shivappa …
Shivappa Thande..
Nannappa Inde Ninnanu Thilide..
Neenilla Neenilla endu Naanu
Badukella Kaththalale Aledenalla
Badukella Kaththalale Aledenalla..a..
Kannilla
Kivi Illa
Kalladaru Ee Maiyella
Hoovanthe
Haalalnthe
Mahadevane Manasella
Kannilla
Kivi Illa
Kalladaru Ee Maiyella
Hoovanthe
Haalalnthe
Mahadevane Manasella
Yeduralle Dinavella Kulithiruva Aase
Kaaneno Yeko Nannappa
Yeduralle Dinavella Kulithiruva Aase
Kaaneno Yeko Nannappa
Ninnane Nodutha Illiruva Aase
Karana Yeno Helappa
Ninna Preethige Sothu Hodenu
Ninna Preethige Sothu Hodenu
Innu Marethare Naanu Badukenu
Kannilla
Kivi Illa
Kalladaru Ee Maiyella
Hoovanthe
Haalalnthe
Mahadevane Manasella
Shiva Shiva Yendaaga
Manasina Bhaara
Doorake Odi Thaanaagi
Shiva Shiva Yendaaga
Manasina Bhaara
Doorake Odi Thaanaagi
Hara Hara Yendaaga
Maiyali Minchu
Oduva Haage Nanagaagi
Ganthalalliye
Dhaniyu Hidivudu
Ganthalalliye
Dhaniyu Hidivudu
Yeko Kaanenu Aluve Baruvudu
Kannilla
Kivi Illa
Kalladaru Ee Maiyella
Hoovanthe
Haalalnthe
Mahadevane Manasella
Shiva Mecchida Kannappa Songs
Kanninda Nee Baana
Kannilla Kiviyilla
Deva Mahadeva
Mella Mellane Bandane
Maayeya Thareyanu
Ellaru Maduvudu Hottegaagi
Comments
comments