February 15, 2018
Yeke Noduve Haage Lyrics
Yeke Noduve Haage Lyrics: Yeke Noduve Haage is a song from the 1977 Kannada movie Sahodarara Savaal [Sahodarara Saval] directed by K. S. R. Das. produced by A R Raju under the banner Ajantha Combines. Sahodarara Savaal features Vishnuvardhan, Rajanikanth, Kavitha, Bhavani, Leelavathi, Jayashree, Balakrishna, Dwarakish, Prabhakar, Shakthi Prasad, Vijaykumar, Bheemaraj, Pramila Joshai, Jayamalini, Halam, Chethan Ramarao, Rajanand, GVG, Rathnakar, Ramu, Master Guruprasad, Master Ramesh and others.
The film was remade in Tamil as Sahodara Sapatham, In Telugu as Annadammula Savaal and into Hindi as Diller. Saregama was the music label of this movie. This song was composed by Chellapilla Satyam with lyrics penned by Chi. Udayashankar. Yeke Noduve Haage song was rendered by S. P. Balasubrahmanyam and S. Janaki.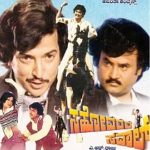 Yeke Noduve Haage Lyrics
Movie: Sahodarara Saval
Music Label: Saregama
Music: Sathyam
Lyrics: Chi. Udayashankar
Singers: S. P. Balasubrahmanyam, S. Janaki
Check out the lyrics here..
Hey Hey Hehe Hey Yeke Noduve Haage
Hey Hey Hehe Hey Premisuvude Heege
Hey Hey Yeke Noduve Haage
Hey Hey Premisuvude Heege
Premisalende Huttidevendu Thiliyiri Yella Indu
Hey Hey Hehe Hey Yeke Noduve Haage
Hey Hey Hehe Hey Premisuvude Heege
Ha Ha Premada Aatava Nodida Mudukaru
Neneyali Kanasina Dinava
Premigalaaduva Sarasava Kandu
Padeyali Nava Youvvanava
Premada Aatava Nodida Mudukaru
Neneyali Kanasina Dinava
Premigalaaduva Sarasava Kandu
Padeyali Nava Youvvanava
Aaduva Oduva Haaduva Kooduva
Premada Kadalali Mulugiruva
Hey Hey Hehe Hey Yeke Noduve Haage
Hey Hey Hehe Hey Premisuvude Heege
Arey Arey Yaakri Haag Nodtha Idiraa
Premave Haasige Premave Hodike
Premave Usiru Namage
Premave Kaalavu Saalade Iralu
Bere Gamanavu Yeke
Premave Haasige Premave Hodike
Premave Usiru Namage
Premave Kaalavu Saalade Iralu
Bere Gamanavu Yeke
Premige Yethake Bedada Naachike
Aanandavaagi Premisuva
Sahodarara Savaal Songs
O Nallane Savi Mathonda
Hey Nanagaagiye
Maathonda Naa Nudive Kelu
Yeke Noduve Haage
Jinkeyantha Hennigendu
Comments
comments