February 15, 2018
Jinkeyantha Hennigendu Lyrics
Jinkeyantha Hennigendu Lyrics: Jinkeyantha Hennigendu is a song from the 1977 Kannada movie Sahodarara Savaal [Sahodarara Saval] directed by K. S. R. Das. produced by A R Raju under the banner Ajantha Combines. Sahodarara Savaal features Vishnuvardhan, Rajanikanth, Kavitha, Bhavani, Leelavathi, Jayashree, Balakrishna, Dwarakish, Prabhakar, Shakthi Prasad, Vijaykumar, Bheemaraj, Pramila Joshai, Jayamalini, Halam, Chethan Ramarao, Rajanand, GVG, Rathnakar, Ramu, Master Guruprasad, Master Ramesh and others. The film was remade in Tamil as Sahodara Sapatham, In Telugu as Annadammula Savaal and into Hindi as Diller.
Saregama was the music label of this movie.This song was composed by Chellapilla Satyam with lyrics penned by Chi. Udayashankar. Jinkeyantha Hennigendu song was rendered by S. P. Balasubrahmanyam and Ramesh.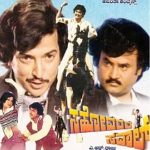 Jinkeyantha Hennigendu Lyrics
Movie: Sahodarara Saval
Music Label: Saregama
Music: Sathyam
Lyrics: Chi. Udayashankar
Singers: S. P. Balasubrahmanyam, Ramesh
Check out the lyrics here..
Jinkeyantha Hennigendu Jinnu Thande Naanu
Rambeyatha Hennigendu Rummu Thande Naanu
Jinkeyantha Hennigendu Jinnu Thande Naanu
Rambeyatha Hennigendu Rummu Thande Naanu
Ille Barthiya Illa Alle Koorthiya
Alle Irthiya Illa Ille Barthiya
Jinkeyantha Hennigendu Jinnu Thande Naanu
Rambeyatha Hennigendu Rummu Thande Naanu
Ille Barthiya Illa Alle Koorthiya
Alle Irthiya Illa Ille Barthiya
Laala Lala Lala Lala Lala Lalla
Kullanavanu Yenu Balla Rasika Naanu Nodu
Kallanavanu Koli Kadiva Avana Aache Doodu
Kullanavanu Yenu Balla Rasika Naanu Nodu
Kallanavanu Koli Kadiva Avana Aache Doodu
Ninage Naa Jodi Nanage Nee Jodi
Ninage Naa Jodi Nanage Nee Jodi
Avana Neenu Nambabeda Mudiya Thumba Kedi
Alle Irthiya Illa Ille Barthiya
Ille Barthiya Illa Alle Koorthiya
Mudiya Haddu Onagi Hoda Marada Haage Ivanu
Mudiya Hunase Marada Hannu Ruchiyu Kammi Yenu
Mudiya Haddu Onagi Hoda Marada Haage Ivanu
Mudiya Hunase Marada Hannu Ruchiyu Kammi Yenu
Haththira Baralene Muththu Kodalene
Haththira Baralene Muththu Kodalene
Kullanannu Nambabeda Ivanu Shuddha Tharale
Ille Barthiya Illa Alle Koorthiya
Alle Irthiya Illa Ille Barthiya
Jinkeyantha Hennigendu Jinnu Thande Naanu
Rambeyatha Hennigendu Rummu Thande Naanu
Ille Barthiya Illa Alle Koorthiya
Alle Irthiya Illa Ille Barthiya
Jinnu Rummu Jinnu Rummu Jinnu Rummu
Sahodarara Savaal Songs
O Nallane Savi Mathonda
Hey Nanagaagiye
Maathonda Naa Nudive Kelu
Yeke Noduve Haage
Jinkeyantha Hennigendu
Comments
comments