February 22, 2018
Preethiya Maathannu Keli Lyrics
Preethiya Maathannu Keli Lyrics: Preethiya Maathannu Keli is a song from 1989 Kannada movie Hrudaya Geethe, directed and produced by H. R. Bhargava. Hrudaya Geethe features Vishnuvardhan, Bhavya, Kushboo, Balakrishna, Sridhar, Umashree, Devaraj, Mukhyamantri Chandru, Doddanna, Ramesh Bhat, Sihi Kahi Chandru, Sudheer, Kavya Krishnamurthy, Mysore Lokesh, Dinesh and Others. Sangeetha was the music label of this movie.
This song was composed by Rajan-Nagendra with lyrics penned by Shyamasundara Kulkarni. Preethiya Maathannu Keli was rendered by S. P. Balasubrahmanyam and Vani Jayaram.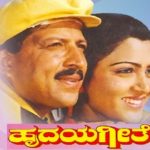 Preethiya Maathannu Keli Lyrics
Movie: Hrudaya Geethe [1989]
Music Label: Sangeetha
Music: Rajan-Nagendra
Lyrics: Shyamasundara Kulkarni
Singers: S. P. Balasubrahmanyam, Vani Jayaram
Check Out The Lyrics Here..
Preethiya Maathannu Keli Kunidenu
Aaseya Baanalli Theli Hodenu
I Love You I Love You I Love You
Santhasada Nidhiyaagi
Jeevanada Jotheyaagi
Nava Jyothiyaagi Mana Belagu Baa
Love You Love You Love You
Preethiya Maathannu Keli Kunidenu
Aaseya Baanalli Theli Hodenu
I Love You I Love You I Love You
Hoovalle Neydiruva Ee Ninna Andava
Aa Brahma Avanentha Jaana
Maiyella Nindene Hosa Gungu Thumbide
Baalaythu Shrunagaara Thaana
Chaithravu Thandide Nija Maithriya Sangava
Nija Ninnale Kandenu Nava Raathriya Vaibhava
Love You Love You Love You Love You Love You
Preethiya Maathannu Keli Kunidenu
Aaseya Baanalli Theli Hodenu
I Love You I Love You I Love You
Laala Laa Lala Lala Laala Lala Lala Laala
Olavemba Honalaagi Ee Manava Thumbide
Mai Marethu Naa Higgi Nalide
Ninagaagi Dina Nithya Naa Dhyana Maadide
Daya Thori Neenindu Olide
Maathalle Gellutha Mana Dochida Manmatha
Serutha Saviyuva Sihi Snehada Amrutha
Love You Love You Love You
Preethiya Maathannu Keli Kunidenu
Aaseya Baanalli Theli Hodenu
I Love You I Love You I Love You
Santhasada Nidhiyaagi
Jeevanada Jotheyaagi
Nava Jyothiyaagi Mana Belagu Baa
Love You Love You Love You
Preethiya Maathannu Keli Kunidenu
Aaseya Baanalli Theli Hodenu
I Love You I Love You I Love You
Hrudaya Geethe [1989] Songs
Yugayugagale Saagali Namma [Male]
Yugayugagale Saagali Namma [Female]
Hrudaya Geethe Haaduthire
Preethiya Maathannu Keli
Ee Kade Burma Bazar
Premanuraga Baalalli Thumbi
Comments
comments