April 17, 2018
Sose Tanda Soubhagya Songs Lyrics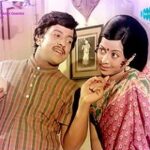 Sose Tanda Soubhagya Songs Lyrics: Sose Tanda Soubhagya [Sose Thanda Sowbhagya] is a 1977 Kannada film, directed by A. V. Sheshagiri Rao. The film was written by P. B. Duttaragi based on Kannada Drama 'Chikka Sose'. This film was produced by S. D. Ankalagi, M. G. Hublikar, B. H. Chandannavar, Surendra Ingale banner Bhuvaneshwari Arts Productions. The movie has a distinction of being the first Cinema Scope movie made in Kannada.
Sose Tanda Soubhagya features Vishnuvardhan, Manjula, Rajesh, Vijaya Lalitha, Vajramuni, Balakrishna, K. S. Ashwath, Dwarakish, Uma Shivakumar, Jayashree, Rekha, Naveena, Prema, Ramachandra Naidu, Jyothishree, Chandrashekar, Kalavathi, VanajasShree, Dinesh and others.
Saregama is the music label of this movie. Songs of this movie was composed by G. K. Venkatesh with lyrics written by R. N. Jayagopal, Vijaya Narasimha and Chi Udayashankar. Singers P. B. Srinivas, S. P. Balasubrahmanyam and S. Janaki lended their voice to the songs of this album.
Check out the lyrics here..
Ravivarmana Kunchada Kale Lyrics
Movie: Sose Thanda Sowbhagya [1977]
Music Label: Saregama
Music: G. K. Venkatesh
Singers: P. B. Srinivas, S. Janaki
Lyrics: R. N. Jayagopal
Saaku Ennuvane Saahukaaranu Lyrics
Movie: Sose Thanda Sowbhagya [1977]
Music Label: Saregama
Music: G. K. Venkatesh
Singer: S. P. Balasubrahmanyam
Lyrics: Vijaya Narasimha
Dhesha Dheshadolage Namma Desha Chanda Lyrics
Movie: Sose Thanda Sowbhagya [1977]
Music Label: Saregama
Music: G. K. Venkatesh
Singers: S. P. Balasubrahmanyam, S. Janaki
Lyrics: Vijaya Narasimha
O Henne Nillu Nillu Lyrics
Movie: Sose Thanda Sowbhagya [1977]
Music Label: Saregama
Music: G. K. Venkatesh
Singer: S. P. Balasubrahmanyam
Lyrics: Chi Udayashankar
Atthige Thangi Ninna Aata Lyrics
Movie: Sose Thanda Sowbhagya [1977]
Music Label: Saregama
Music: G. K. Venkatesh
Singers: S. P. Balasubrahmanyam, S. Janaki
Lyrics: Chi Udayashankar
Yeke Avasaravu Helu Karavanu Hidiyade Lyrics
Movie: Sose Thanda Sowbhagya [1977]
Music Label: Saregama
Music: G. K. Venkatesh
Singer: S. Janaki
Lyrics: Chi Udayashankar
Comments
comments