January 5, 2018
Yaarivalo Yaarivalo Lyrics
Yaarivalo Yaarivalo Lyrics: Yaarivalo Yaarivalo is a song from an upcoming 2018 Kannada movie Naanu L/O Jaanu, written and directed by Suresh G. The film was produced by Chandru K V, Raju Kalkuniki, Vishnu Bhandari and Ravishanker K B under the banner Shri kalathapasvi Creations. Naanu L/O Jaanu features Vishal, Manjula Gangappa, Chikkanna, Chandru, Suchindra Prasad and others.
JBC Audio is the music label of this movie in association with Divo. This song was composed by Srinath Vijay with lyrics penned by V. Nagendra Prasad. Yaarivalo Yaarivalo was rendered by Vijay Prakash.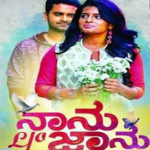 Yaarivalo Yaarivalo Lyrics
Movie: Naanu L/O Jaanu
Music Label: JBC Audio | Divo
Music: Srinath Vijay
Lyrics: V. Nagendra Prasad
Singer: Vijay Prakash
Check out the lyrics here..
Oo Oohoho Ooo Ooo
Yaarivalu Yaarivalu
Theriruva Therivalu
Yenivalu Yenivalu
Smile Koduva Rose Ivalu
Road-All Hogorella Nodi Ivala Galla
Road-Ye Marth Hodralla Jaadoogaathi
Nange Ayith Eno Preethi Madideneno
Aade Ivalige Fan-Uu Maayagaathi
Yaarivalu Yaarivalu
Theriruva Therivalu
Yenivalu Yenivalu
Smile Koduva Rose Ivalu
Smile-U Minuguva Minchu
Nota Belakina Anchu
Paada Kamalada Achchu Komale
Eega Aralida Malle Nodi Karagide Ille
Eeji Thilisalu Balle Eegale
Kavirathna Kaalidaasa Baredantha
Paathra Ivalena
Magnettu Antuvanthe Seleyolu
Nannaaa Kannaaa
Baala Jothe Iruthalo
Naanu Sari Enuthaalo
Moothi Thirugisuthaalo Kaanenu
Nodi Kanavarisolo
Gaadi Bidu Enuthaalo
Preethi Kadeganisolu Helenu
Manasaare Mechchikondu
Manasanne Needi Bitte Naa
Olavemba Arji Kotre
Opthaala Nanna Chinna
Yaarivalu Yaarivalu
Theriruva Therivalu
Yenivalu Yenivalu
Smile Koduva Rose Ivalu
Road-All Hogorella Nodi Ivala Galla
Road-Ye Marth Hodralla Jaadoogaathi
Nange Ayith Eno Preethi Madideneno
Aade Ivalige Fan-Uu Maayagaathi
Naanu L/O Jaanu Songs:
Raviya Kiranada Mele
Yaarivalo Yaarivalo
Bhoomi Achegide Mouna
Yelumele Yelu Geleya
Comments
comments