July 8, 2021
Amrapali Dubey Dinesh Lal Yadav Bhojpuri Films List
Amrapali Dubey Dinesh Lal Yadav Bhojpuri Film List: Combination of Amrapali Dubey and Dinesh Lal Yadav is one of the successful onscreen pairs of Bhojpuri cinema now. Amrapali Dubey and Dinesh Lal Yadav had acted together in 26 movies till now.
Dinesh Lal Yadav, popularly known as Nirahua, is a leading Bhojpuri actor, singer, producer, television presenter.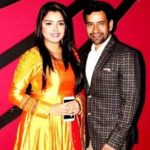 He made his debut in 2007 Bhojpuri film 'Chalat Musafir Moh Liyo Re' as a supporting actor. In 2008, he acted in a lead role in 'Nirahua Rikshawala' which made him a star.
Amrapali Dubey is an actress appearing mostly in Bhojpuri movies. Before entering to movies, she had acted in few TV serials. Her role as 'Suman' in  'Rehna Hai Teri Palkon Ki Chhaon Mein' serial in NDTV was well received by the viewers. She made her film debut in 2014 Bhojpuri film 'Nirahua Hindustani' opposite Dinesh Lal Yadav.
Amrapali Dubey Dinesh Lal Yadav [Nirahua] Bhojpuri Films
Nirahua Hindustani [2014]
Release date: 26 June 2014
Directed by: Satish Jain
Written by: Santosh Mishra
Music: Rajesh Rajnish
Lyrics: Pyare Lal Yadav
Cast: Sanjay Mahanand, Sanjay Pandey
Banner: Nirahua Entertainment
Patna Se Pakistan [2015]
Release date: 23 January 2015
Directed by: Santosh Mishra
Written by: Santosh Mishra
Music: Rajesh-Rajnish
Lyrics: Pyare Lal Yadav, Sahil Sultanpuri
Cast: Kajal Raghwani, Ashok Samarth
Banner: Ananya Craft & Visions
Nirahua Rickshawala 2 [2015]
Release date: 2015
Directed by: Satish Jain
Written by: Santosh Mishra
Music: Rajesh-Rajnish
Lyrics: Pyare Lal Yadav
Cast: Akshara Singh, Sathya Prakash
Banner: Nirahua Entertainment
Raja Babu [2015]
Directed by: Manjul Thakur
Written by: Manjul Thakur
Music: Chotte Baba
Lyrics: Pyare Lal Yadav, Sachitanand, Azad Singh
Cast: Monalisa, Seema Singh
Banner: Shaurya Entertainment
Jigarwala [2015]
Directed by: Subba Rao Gosangi
Dialgoues: Surendra Mishra
Music: Rajesh Rajnish
Lyrics: Pyare Lal Yadav
Cast: Priyanka Pandit, Sushil Singh
Aashik Aawara [2016]
Directed by: Satish Jain
Music: Rajesh-Rajneesh
Lyrics: Pyare Lal Yadav, Shyam Dehati
Cast: Kajal Raghwani, Susheel Singh
Producer : Prem Rai
Banner: Shreyash Films
Bam Bam Bol Raha Hai Kashi [2016]
Directed by: Santosh Mishra
Produced by: Priyanka Chopra
Music: Rajnish Mishra, Madhukar Anand
Lyrics: Azad Singh, and Shyam Dehati
Cast: Antara Benarjee, Sanjay Pandey
Banner: Purple Pebble Pictures
Nirahua Chalal Sasural 2 [2016]
Director: Premanshu Singh
Producer: Naser Jamal
Banner : Muskkan Movies India Pvt. Ltd.
Music Director: Om Jha
Lyrics: Pyare Lal Yadav, Shyam Dehati
Cast: Awadhesh Mishra,Sushil Singh
Amrapali Dubey and Dinesh Lal Yadav Bhojpuri Movies
| | |
| --- | --- |
| Movie | Year |
| Nirahua Hindustani | 2014 |
| Patna Se Pakistan | 2015 |
| Nirahua Rickshawala 2 | 2015 |
| Raja Babu | 2015 |
| Jigarwala | 2015 |
| Aashik Aawara | 2016 |
| Bam Bam Bol Raha Hai Kashi | 2016 |
| Nirahua Chalal Sasural 2 | 2016 |
| Ram Lakhan | 2016 |
| Mokama 0 K.M. | 2016 |
| Nirahu Satal Rahe | 2017 |
| Sipahi | 2017 |
| Nirahua Hindustani 2 | 2017 |
| Kashi Amarnath | 2017 |
| Border | 2018 |
| Nirahua Hindustani 3 | 2018 |
| Nirahua Chalal London | 2018 |
| Jai Veeru | 2019 |
| Lallu Ki Laila | 2019 |
| Muqaddar Ka Sikandar | 2020 |
| Romeo Raza | 2020 |
| Aaye Hum Baarati Baarat Leke | 2021 |
| Veer Yoddha Mahabali | 2021 |
| Nirahua The Leader | 2021 |
| Aayi Milan Ki Raat | 2021 |
| Nirahua Chalal Sasural 3 | 2021 |
Comments
comments