July 19, 2020
Bheemana Amavasya Date Time Pooja Method | Bheemana Amavaase Vrata
Bheemana Amavasya Date Time Pooja Method | Bheemana Amavaase Vrata: Bheemana Amavaase or Bheemana Amavasya is a Hindu festival celebrated in the Southern states of India, including Karnataka, Andhra Pradesh and Tamil Nadu. This festival is celebrated on Amavasya [New moon day] of the Ashada [Aadi] the month of the Hindu calendar that corresponds to June and July in the Gregorian calendar.
In Hinduism, Usually, no ceremonies are performed in the month of Ashada. But on the last day of the Ashada month, Bheemana Amavasya Festival will be celebrated. Bheemana Amavaase is also known as 'Pathi Sanjeevini Vrata', 'jyothirbheemeshwara Vrata', 'Deepastambha Pooja', and 'Bheemana Amavaase'. In South Karnataka, this festival is known as 'Aati Amavaasye' and in North Karanataka the festival is called as 'Kode Amavaasye'.
Bheemana Amavasya Vratha is a dedicated festival for women. Bheemana Amavaase can be celebrated by both married women as well as unmarried women. Women celebrate this festival for the well-being of her husband and brother. On this day, Married women will carry out the vratha for the longevity of her husband. Unmarried women celebrate this Vratha in the hope of getting a virtuous groom.
On this day of Bheemana Amavasya, Women will worship Lord Parashiva and Goddess Parvathi for her husband's longevity and well being. It is believed that on this day Lord Shiva, was impressed by Goddess Parvathi's devotion towards him and accepted her as his wife.
It is believed that if women worship Lord Shiva and Parvati on this day, Lord Shiva and Goddess Parvati will grant them all things, including prosperity, prosperity, piety, success, happiness.
Legend behind Bheemana Amavaase
Once upon a time, There was a young woman who married a dead prince. She believed that she would get her husband back. So the next day, She makes a lamp of clay and flour and worships Lord Shiva and Parvathi on the new moon day [Amavasya].
Impressed by her devotion, Lord Shiva and Parvathi appears before her and asks her what she wants. The princess then requests God to save her husband and give him back to her. Then Shiva, Parvati saves her husband's life and they breaks 'kadubu' a sweet placed by the princess to worship God. Therefore this day is celebrated as Bheemana Amavaase.
On this day, women do not eat fried foods. Married women celebrate Bheemana Amavasya for the duration of 5 years or for 9 years, or 16 years after their marriage.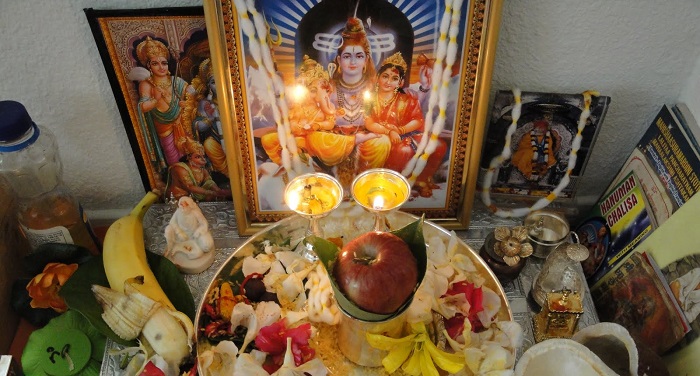 Bheemana Amavaasya 2022 Date and Time
Bheemana Amavaasya 2022 will be celebrated on Thursday, July 28 in every corner of the country.
1. Bhima Amavasya 2022 Auspicious Day: Thursday 28th July 2022
2. Bhima Amavasya 2022 Starts: Wednesday 27 July 2022 from 9:11 PM
3. Bhima Amavasya 2022 Expires: Thursday 28 July 2022 till 11:24 PM.
Lord Parshiva marries Goddess Parvati on the new moon. So this day is celebrated as Bhima's new moon.
Pooja Materials
* Mane / Mantapa, the image of Lord Bhimeshwar
* Nanda lamp, Ghee, Oil, Lamp Wick
* Bell, Panchapatre, Uddaran, Arghya Pot, Water
* Turmeric, Saffron, Mantrakshathe
* Sandalwood, Incense stick
* Various Flowers, Bilva Patre, Gejje Vastra
* Betel leaf, Nut, Fruit, Coconut, and Dakshine
* Naivedya – Payasa, Fruit, Dough material made for Bhandara
* Aarti Plate, Halgarati, Camphor, Mangalarati Batti.
Bheemana Amavasya Pooja Method
1. Women should get up early, clean, put on new clothes, and put rangoli in front of the house.
2. The Wife should then tie the 'Kankana' [bracelet] on her hand and start the vratah by worshiping  Jyothirpimeshwara or Shiva Parvati.
3. The Vrata should be carried out on the auspicious time of the day.
4. They must put the rice on a plate and light two oil lamps on the rice.
5. On this lamp plate, Shiva-Parvati is invoked and worshiped.
6. Along with all the required items for the vratha, they should put the sacred Gowridhaara with 9 knots and perform the pooja. after the pooja they should tie that sacred thread on their hands.
7. Since Ganesha is the symbol of auspicious times, first worship Ganesha and then worship Bheemeshwara.
8. Offer 9 KariKadaubu [Sweet] to God.
9. Then perform the 'Paada Pooje' for husband and receive the blessing of Husband.
On the account Bheemana Amavasya festival, we wish you all a Happy Bheemana Amavaase or Bheemana Amavasya 2022.
Comments
comments