January 11, 2023
Famous Kannada Writer Sara Abubakar passed away
Famous Kannada Writer Sara Abubakar passed away: Popular Kannada Writer Sara Abubakar passed away around 1 pm on Tuesday at a private Hospital in Mangaluru, Karnataka due to old age related ailments. She was 86 years old. She is survived by four sons and a host of relatives, friends, and readers.
Sara Abubakar [Sara Aboobacker] was born on June 30, 1936 to P. Ahmed and Zainabi, lawyers, in a Malayalam speaking family in a village on the banks of Chandragiri in Kasaragod, Kerala.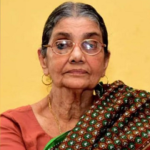 She completed her primary education in her hometown. She continued her studies in Kasaragod till high school. Being fascinated by the stories told by her grandmother, who had learned Arabic, she had a desire to achieve something in literature as a child. Growing up, she had the thought of women's equality and empowerment.
Sara Abubakar discontinued her studies after getting married to Abubakar who was an engineer by profession. But Sara, who was always interested in reading, was addicted to the writings of famous Kannada writers like Shivaram Karanth, S. L. Bhairappa, U. R. Ananthamurthy, Triveni, Inandar, and others.
There was a lot of distraction in the surrounding environment where she was living. These things affected her. some of the issues prevalent in the society bothered her and made her to think about the hardships of women.
Under the influence of reading the novels of Vaikam Mohammad Basheer, which her elder brother used to give him, the inner pressure to write continuously emerged in her.
Sara Abubakar Books
Sara Abubakar Novels
Chandragiriya Theeradalli [1984]
Sahana [1985]
Vajragalu
Kadana Virama [1988]
Suliyalli Sikkavaru [1994]
Pravaha-suli [Suliyalli Sikkavaru Part 2]
Thala Odeda Dhoni [1997]
Panjara
Ilijaaru
Kaanike
Sara Abubakar Short Stories
Chappaligalu [1989]
Payana Matthu Ithara Kathegalu
Arda Rathriyalli Huttida Koosu [1992]
Khedda
Sumayya [2004]
Ghagana Sakhi [2007]
Sara Abubakar Radio Dramas
Kamarida Kanasu
Magalu Huttidalu
Thelaaduva Modagalu
Thaala
Heegu Ondu Baduku
Sara Abubakar Articles & Translations
Lekha Guccha
Manomi
Bale
Naninnu Nidrisuve
Sara Abubakar Travelogue
Isharamadha Aladalli
Comments
comments