July 28, 2022
Shravana Masa 2022: Date Time Pooja Ritual
Shravan Masa 2022: Date Time Pooja Ritual  –  According to the Hindu community, the month of Shravan is the most auspicious month of the year. This year, Shravan Masa begins on July 29, 2022. It is said to be an auspicious month for the worship of Lord Shiva. It will continue till August 27 this year. This entire period is devoted to the worship of Lord Shiva every Monday. It is also known as Shravana Monday [Shravana Somavara].
Importance of Shravana Maasa and Shravana Somavara
Special offerings are made to the idols of Shiva during the month of Shravan. The four Mondays of this time consist of 8 Ravi Yogas and 7 Sarvarthasiddhi Yogas. During this time people visit Shiva temples by offering milk, flowers, holy water and bilvapatra leaves. If one Monday is celebrated, there is a rule that 16 Mondays should be celebrated.
Worshiping Lord Shiva with devotion in the month of Shravan is believed to bring much happiness and success as well as get rid of problems. It is said that if you take a resolution and celebrate Shravan Monday, it will be fulfilled.
On Shravan Monday, devotees wake up in the morning, take a bath, go to the temple of Lord Shiva and offer pooja. Some worship the Shivlinga at home. At this time, Shiva devotees bring water from holy rivers and anoint Shiva. In addition to this, Shravana fasts on Mondays and performs special pujas to please Bholenath. This year the month of Shravan begins on July 29 and ends on August 27.
The Legened Behind Shravana Masa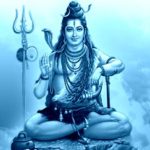 Shiva gets the Ganges water from Gaumuk to Haridwar. So on this day devotees walk to the Gangajal. They carry on their shoulders a 'kanvar' containing Ganges water to offer to Lord Shiva. This day falls on Trayodashi tithi in Krishna Paksha of Shravan month and is commemorated as Shivratri.
It is during this month that Shiva wears the moon on his head. Moon is used to soothe the effects of poison. For this reason, devotees offer milk, curd, flowers and bilva patra to Lord Shiva during this month.
According to Puranic stories, when all living beings were in danger due to the terrible tumult that arose during the churning of the ocean, Lord Shiva intervened and consumed it. After consuming this Shiva fainted. Then, as advised by the deities, Brahma performed a water ablution for Shiva and treated Shiva with various herbs. Then Shiva regained consciousness. Due to this, the custom of performing water ablution on the lingam came to be.
Shravana in Hinduism means listen. The month of Shravan has the noble purpose of listening to spiritual discourses, sermons and noble words. This means that people should mostly listen to Purana discourses during this time. Devotees should perform good deeds such as recitation of hymns about Shiva, meditation on Shiva during this month.
Rituals to be observed Devotees
Visit the temple of Lord Shiva and perform Jalabhishekam to Shivalinga.
Get up early in the morning and take a holy bath, worship the idol of Shiva and chant Om Namah Shivaya.
During this time of the month people observe the Monday fast.
The Mahamrithunjaya mantra is chanted 108 times in the name of Shiva. Milk, curd, ghee, honey, Ganges water are given and Rudrabhisheka is performed.
Do not quarrel with anyone following the month and avoid certain food habits like onion, garlic, radish, brinjal etc. Alcohol consumption is strictly prohibited.
Shiva Chalisa and Shiva Aarti are recited to please Lord Shiva.
Mantra to be recited in the month of Shravan
In the month of Shravan one should hold a Rudrakshi garland and chant Shiva mantras. 108 times these mantras or more times the following mantras should be chanted.
Chant the following mantras in the morning or evening during the month of Shravan. Or you can recite the mantra daily.
Om Namah Shivaya || Mahamrityunjaya Mantra:
Tryambakam yajamahe sugandhim pushtivardhanam ||
Rudra Gayatri Mantra: Om tatpurushaya vidmahe mahadevaya dhimahi
Tanno Rudra Prachodayat ||
Comments
comments