December 20, 2019
Pejawara Sri Vishwesha Teertha Swamiji Admitted To Hospital
Pejawara Sri Vishwesha Teertha Swamiji Admitted To Hospital: Vishwesha Teertha Swamiji of the Sri Pejavara Adokshaja Matha, Udupi has been admitted to KMC Hospital, Manipal early this morning due to breathing problem.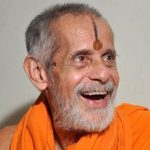 88 year old Sri Vishwesha Teertha Swamiji had some respiratory issues earlier this morning. so he was immediately admitted to hospital and treatment is underway.
Pejavara Sree Vishwesha Teertha Swami was born in Uppinangady, Dakshina Kannada district, Karnataka in 1931. He was named as 'Venkatrama'. He took Sanyasa at the tender age of 8 in the year 1938.
Couple of days ago [Dec 17, Tuesday] Sri Sri Vishvesha Teertha Swamiji visited Tirupati Tirumala Temple and offered his prayers to Lord Venkateswara. Sri Anil Kumar Singhal, EO of Tirupati Tirumala Devastanam welcomed Vishwesha Teertha Swami amidst the chanting of veda mantras. Temple Deputy EO Sri Haridranath, Board Member Sri DP Anantha, OSD Sri Seshadhri, Bokkasam Clerk Sri Gururaja Rao and other temple officials were also present during this visit of Pejavara Sree.
Search Terms
pejawar, pejawar seer, pejawar mutt, pejawar sri, pejawar mutt varanasi, pejawar mutt trivandrum, pejawar mutt delhi, pejawar swamiji news, pejawar mutt website, pejavara sri, pejavara matha, pejavara swamy, pejavara mutt, pejavara paryaya, pejavara matha tirumala, pejavara sri, pejavara sri age, pejavara sri pravachan, sri pejavara matha udupi, sri pejavara adhokshaja matha, pejawar swamiji, pejavara shree, pejawar mutt address,
pejawar swamiji photos, pejawar seer age, vishwaprasanna teertha, pejavara shree images, pejawar swamiji health, Vishwesha Teertha, Pejawara Matha, udupi, udupi temple, udupi krishna, udupi mutt, udupi manipal, udupi matha, udupi mutt tirumala, udupi mutt varanasi, pejawar sri vishwesha teertha, pejawar sri vishwesha teertha swamiji, Seer Sri Vishwesha Teertha Swamiji, Poornaprajna Vidyapeetha, Shri Vishvamanya Teertha Swamiji,
vishwesha theertha swamiji, vishwesha theertha pejawar swamiji, vishwesha tirtha, vishwesha tirtha swami, sri vishwesha theertha, sri vishwesha theertha swamiji, vishwesha tirtha swamiji of pejawar mutt, Udupi Anantheshwara Temple,Udupi Sri Krishna Matha, Sri Madhvacharya, Ashta Mathas, Ashta Mutts, Sri Vamana Thirtha, Shiroor Math, Sri Rama Thirtha, Kaniyoor Matha, Sri Adokshaja Thirtha, Pejawara Matha,
Sri Hrishikesha Thirtha, Palimaru Matha, Sri Narahari Thirtha, Adamaru Matha, Sri Janardhana Thirtha, Krishnapura Matha, Sri Upendra Thirtha, Puttige Matha, Sri Vishnu Thirtha, Sode Vadiraja Matha, Sri Sri Vishvesha Teertha Swamiji, Peetadhipathi of Sri Pejavara Mutt, 32nd pontiff of Pejavara peetham
Comments
comments