May 25, 2019
Turtles All The Way Down by John Green Book Review
Turtles All The Way Down by John Green Book Review: Turtles all the way down written by John Green was published in the year 2017.  The book is a young adult fiction and revolves around teenager Aza Holmes, Daisy and Davis Pickett.
Turtles All The Way Down by John Green | Book Synopsis
Sixteen-year-old Aza and her best friend Daisy intends to solve the mystery of a missing billionaire Russell Pickett, with a reward of  hundred thousand dollars at risk. Both navigate and during the journey meets Davis, Russell Pickett's son. "Turtles All The Way Down"  is a novel surrounded by love, friendship, regrets, and resilience.
Turtles All The Way Down By John Green | Book Review
I'm not a big fan of John Green. Apart from his "The Faults In Our Stars" I could not relate to any of his other books. His other books like An Abundance of Katherines, Finding Alaska and Will Grayson were not up to my expectations.
I started the book The Turtles All The Way Down with null to minimum expectation. The first few pages were so snail paced I left like giving it up, but few of my online bookish friends told me to give it a chance. They assured me the story will pick up its pace gradually. The story did involve me in some parts but not through out the books. I was not really disappointed with the book as I started with no expectations.
One thing I liked about the book was Aza's musings about her anxiety. Her struggle, her anxiety and her helplessness are all real and her musings are like a mirror. The reader connects to her very easily.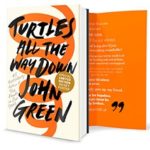 I did get annoyed with Aza's best friend Daisy. One instance where Daisy accuses Aza that she is tiresome and self-centered, you get annoyed because its very clear who is self-centered and annoying.
The blooming relationship of Davis Pickett, a billionaire's son and Aza, a girl with mental illness does has its perks. You will definitely fall for their equation. I'm glad John Green didn't end the story with uncertainties. He made sure we get a peek into the future of Aza.
Overall, the book is an OK read. With just 286 pages, you can finish off the book in couple of days or if you have more patience than me, I won't be surprised if you finish the book in 1 day.
You have time and looking for a one – time book which hardly has ups.. go for it. Otherwise, give this book a miss and read something better. I give this book 3.25 Stars.
Turtles All The Way Down by John Green | Book Details
Title: Turtles all the way down
Author: John Green
Language: English
Page Count: 286
Year of Publication: 2017
Genre: Young Adult Fiction
Characters: Aza, Daisy and Davis
Ratings: 3.25 Stars
About the author
John Michael Green is an American author, vlogger, writer, producer, actor and editor. He won the 2006 Printz Award for his debut novel, Looking for Alaska, and his sixth novel, The Fault in Our Stars, debuted at number one on The New York Times Best Seller list in January 2012. The 2014 film adaptation opened at number one at the box office. In 2014, Green was included in Time magazine's list of The 100 Most Influential People in the World. Another film based on a Green's novel, Paper Towns, was released on July 24, 2015.
John Green Books: Looking for Alaska (2005), An Abundance of Katherines (2006), Paper Towns (2008), The Fault in Our Stars (2012), Turtles All the Way Down (2017) and others.
Comments
comments