November 5, 2021
Bheema Roopi Maha Rudra Lyrics | Marathi Maruti Stotra
Bheema Roopi Maha Rudra Lyrics | Marathi Maruti Stotra: Bheema Roopi Maha Rudra or Maruti Stotra [Hanuman Stotra] is a 17th-century devotional hymn or stotra, composed by Samarth Ramdas in Marathi language.
Samarth Ramdas [1608 – 1681], also known as Sant Ramdas or Ramdas Swami was an Marathi Hindu saint, philosopher, poet, writer and spiritual master. He was a devotee of the Hindu deities Rama and Hanuman. Ramdas had extensive literature written during his lifetime.
Bheema in Sanskrit is a symbol of vastness, and this "Bheema Roopi Stotra" is the first and primary section of Maruti Stotra. Hanuman also known as Anjaneya or Maruthi is a Hindu god. He is an ardent devotee of Rama and one of the chiranjivis. Hanuman is also son of the wind-god Vayu.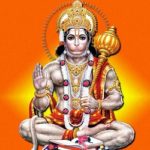 Bheema Roopi Maha Rudra Lyrics
Composed by: Samarth Ramdas
Genre: Devotional Hymn
Lord: Hanuman
Language: Marathi
Singers: Various
Check out 'Bheema Roopi Maha Rudra Lyrics' here..
Bheema Roopi Maha Rudra
Vajra Hanuman Maaruthi
Vanaari Anjanisutha
Ramadootha Prabhanjna
Mahabali Praanadaatha
Sakala Uthavi Bale
Saukhaykaari Dukh Haari
Doot Vaishnav Gayaka
Dheenanatha Hariroopa
Sundara Jagdantara
Paatal Devta Hanta
Bhavya Sindur Lepana
Lokanatha Jaganatha
Praananatha Puraathana
Punyavantha Punyasheela
Paavana Paritoshaka
Dhwajange Uchali Baaho
Aaveshe Lotla Pudhe
Kaalagni Kaala Rudraagni
Dekhta Kaapati Bhaye
Brahmaande Maile Neno
Aawale Dantpangati
Netraagni Chalilya Jwala
Bhrukuti Tatilya Bale
Puchate Muradile Matha
Kiriti Kundale Bari
Suvaran Katikasoti
Ghanta Kinkini Naagara
Thakaare Parvata Aisa
Netka Sadpathdu
Chaplang Pahata Mothe
Mahavidduletepari
Koticha Koti Uddane
Jhepave Uttarekade
Mandradrisarikha Dronu
Krodhe Utapatila Vale
Anila Maguti Nela
Aala Gela Manogati
Manashi Taakile Maage
Gatisi Tulna Nase
Anupasuni Brahmanda
Yevdha Hoth Jaat Ase
Tayasi Tulna Kaishi
Merumandar Dhakute
Brahmandabhovate Vedhe
Vajrapuche Karu Shake
Tayashi Tulna Kaichi
Brahamandi Pahta Nase
Aarakat Dekhile Dola
Grase Surya Mandla
Vadhta Vadhta Vadhe
Bhedile Shunya Mandla
Dhanydhanya Pashuvruadhi
Putrpoutrya Samgrahi
Paavati Rupvidhyadhi
Stotre Paathe Karuniya
Bhoot Pret Samandhadi
Rog Vayadhi Samsatahi
Naasti Tutati Chinta
Anande Bheem Darshane
He Dhara Pandhra Shloki
Labhali Shobhali Bari
Drhudhdeho Nisandheho
Sankhya Chandrkala Gune
Raamdashi Agragaynu
Kapikulashi Mandanu
Ramroopi Antaratma
Darshane Dosh Naasati
Iti Shriramdas Kritam
Sankatnirsan Marutistotram
Sampurnam
Comments
comments