February 14, 2023
Rathnai Kalpitha Masanam Lyrics | Shiva Manas Pooja
Rathnai Kalpitha Masanam Lyrics | Shiva Manas Pooja: Rathnai Kalpitha Masanam or Shiva Manas Pooja is a hymn or verses in Sanskrit language, was composed by Sri Adi Shankaracharya, in praise of Lord Shiva.
Lord Shiva is one of the main deities of Hinduism. Shiva is known as "The Destroyer" within the Trimurti, the Hindu trinity that includes Brahma and Vishnu. Goddess Parvati is Lord Shiva's wife. Lord Ganesha and Lord Murugan are his children.
Maha Shivaratri is one of the major Hindu festival celebrated annually in honor of Lord Shiva. It is believed that Shiva performs the heavenly dance [Shiva Thandavam] on this night. This festival also marks a remembrance of 'overcoming darkness and ignorance' in life and the world.
Sri Adi Shankaracharya was an Indian philosopher and theologian who consolidated the doctrine of Advaita Vedanta. Shankaracharya traveled across the India to propagate his philosophy through discourses and debates with other thinkers.
Over 300 texts are attributed to Sri Adi Shankaracharya, including Bhasyas [Commentaries], Prakararana Grantha [Philosophical Expositions] and Stotras [Poetry].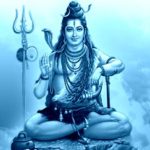 Rathnai Kalpitha Masanam Lyrics | Shiva Manas Pooja
Genre: Devotional / Bhajan
God: Lord Shiva
Singer: Various
Lyrics: Traditional
Language: Sanskrit
Check out 'Rathnai Kalpitha Masanam Lyrics' here..
Rathnai Kalpitha Masanam Himajalai Snanam Cha Divyambaram
Naana Rathna Vibhooshitham Mruga Madha Modhanvitham Chandanam
Jathi Champaka Bilwa Pathra Rachitham Pushpam Cha Deepam Thada
Deepam Deva Dayanithe Pasupathe Hrud Kalpyatham Gruhyatham
Souvarne Nava Rathna Gandha Rachithe Pathre Grutham Payasam
Bakshyam Pancha Vidam Payo Dadhiyutham Rambha Phalam Panakam
Saaka Namayutham Jalam Ruchikaram Karpoora Gandojwalam
Thamboolam Manasa Maya Virachitham Bhakthyo Prabho Sweekuru
Chathram Chamarayoryugam Vyajanagam Chaa Darshakam Nirmalam
Veena Bheri Mrudanga Kahala Kala Geetha Nruthyam Thada
Sasthangam Pranthi Sthuthir Bahu Vidha Hyethat Samastham Maya
Sankalpena Samapitham Thava Vibho Poojam Gruhana Prabho
Aathma Thwam Girija Mathi Sahacharaa Prana Sarreram Gruham
Pooja Theey Vishayopa Bhoga Rachana Nidhra Samadhi Sthithi
Sanchara Padayo Pradakshina Vidhi Sthothrani Sarva Giraa
Yadyath Karma Karomi Thathad Akhilam Shambho Thavaradhanam
Kara Charana Krutham Vaak Kayajam Karmajam Vaa
Sravana Nayanajam Vaa Maanasam Vaa Aparadham
Vihithamavihitham Vaa Sarva Methath Kshamaswa
Jaya Jaya Katunabdhe Sri Mahadeva Shambho
Shri Shankaracharya Virachita Shiva Manasa Pooja
Comments
comments