April 3, 2019
Eesha Ninna Charana Bhajane Lyrics | Keshava Nama | Kanakadasaru
Eesha Ninna Charana Bhajane Lyrics | Keshava Nama | Kanakadasaru: Eesha Ninna Charana Bhajane also known as Keshava Nama is a famous poem written by Kanakadasaru. In this he used different names of lord in each stanza which is quite interesting and informative as well.
Kanakadasaru was a great saint and poet from Karnataka. His contribution to Kannada Dasa Saahityha [Dasa Literature] is huge. He has composed lot of Devaranamas, Keerathanas, Padagalu but only 240 are available today. His birthday is celebrated as Kanakadasa Jayanthi in Karnataka.
Kanakadasaru used Kannada language in his compositions so that it can reach the common people. His compositions have deep philosophical message and devotion. He worshiped lord Adhikeshava of Kaaginele village hence in his poems he used Kaagineleya Adikeshava.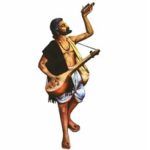 Eesha Ninna Charana Bhajane Lyrics
Written by: Kanakadasaru
Genre: Devotional
Language: Kannada
Lord: Vishnu
Check out the lyrics here..
Eesha Ninna Charana Bhajane
Aaseyinda Maaduvenu
Dosha Rashi Naasha Maadu Shreesha Keshava
Sharanu Hokkenayya Yenna
Marana Samayadalli Ninna
Charana Smarane Karunisayya Narayana
Shodhisenna Bhavada Kalusha
Bhodisayya Gnyanavenage
Baadhisuva Yamana Baadhe Bidisu Maadhava
Hindaneka Yonigalali
Bandu Bandu Nondenayya
Indu Bhavada Bandha Bidisu Thande Govinda
Bhrashtanenisa Beda Krishna
Ishtu Maatra Bedikombe
Shishtarodane Ittu Kashta Bidisu Vishnuve
Madananayya Ninna Mahime
Vadanadalli Nudiyuvanthe
Hrudayadalli Hudugisayya Madhusoodhana
Kavidukondu Iruva Paapa
Savidu Poguvanthe Maado
Javana Badheyannu Bidisu Thrivikrama
Modalu Ninna Paada Pooje
Odhaguvanthe Maado Yenna
Hrudayadolage Sadana Maado Mudhadhi Shridara
Husiyanaadi Hotte Horeva
Vishayadalli Rasikanendu
Husige Haakadiro Hrushikeshane
Biddu Bhavadaneka Januma
Baddhanaagi Kalushadinda
Geddupopa Buddhi Thoro Padmanaabhane
Pankajaaksha Neenu Yenna
Manku Buddhiyannu Bidisi
Kinkaranna Maadikollo Sankarshana
Yeshtu Januma Bandarenu
Daasanallavenu Naanu
Ghaasi Maadadiru Innu Vasudevane
Buddhi Shoonyanaagi Yenna
Baddha Kaaya Kuhaka Manava
Thiddi Hrudaya Shuddhi Maado Pradyumnane
Janani Janaka Neene Yendu
Nenevenayya Deena Bandhu
Yenage Mukthi Paalisinnu Aniruddane
Harushadinda Ninna Naama
Smarisuvanthe Maadu Nema
Irisu Charanadalli Prema Purushottama
Saadhu Sanga Kottu Ninna
Paada Bhajane Itthu Enna
Bheda Maadi Nodadiro Sri Adhokshaja
Charu Charana Thori Yenage
Paarugaanisayya Konege
Bhara Haakiruve Ninage Narasimhane
Sanchithaadi Papagalanu
Kinchithaada Peedegalanu
Munchithavaagi Kaledu Poreyo Swami Achyutha
Gnyana Bhakti Kottu Ninna
Dhyanadalli Ittu Sada
Heena Buddhi Bidisu Munna Shree Janardhana
Japa Thapa Anushtaanavillade
Kupithagaamiyaada Enna
Krupeya Maadi Kshamisabeku Upendrane
Moreya Iduvenayya Ninage
Sharadhi Shayana Shubhamathiya
Irisu Bhaktarolage Parama Purusha Sri Hari
Puttisale Beda Innu
Puttisidake Paalisinnu
Ishtu Maatra Bedikombe Shri Krishnane
Sathyavaada Naamagalanu
Nithyadalli Patisuvavara
Arthiyinda Salahuthiruva Kartru Keshava
Mareyadale Hariya Naama
Baredu Odhi Kelidavage
Karedu Mukti Koduva Neleyaadikeshava
Check Out Kanakadasaru Songs
Daasanaagu Visheshanaagu Lyrics
Ellaru Maduvudu Hottegaagi Lyrics
Dimbadalli Iruva Jeeva Lyrics
Eesha Ninna Charana Bhajane Lyrics
Comments
comments