October 20, 2023
Lalitha Navarathna Malai Lyrics
Lalitha Navarathna Malai Lyrics: Lalitha Navarathna Malai is a devotional hymn, composed by sage Agathiyar [Agastya].
At one time, Hayagriva, who had imparted many teachings to Agathiyar, extolled the greatness of Lalitha Sahasranama. When Agathiyar inquired about the significance of that hymn, Hayagriva explained the sacred path leading to the abode of the Divine Mother.
On hearing that, Agathiyar recited the praise and asked him to tell which place is suitable for worshiping Amba. Hayagriva directed Agathiyar to visit the Manonmani Peetham at Thirumeyachur Temple, where Goddess Ambika isgraciously bestows her blessings as Lalitha. He instructed Agathiyar to recite the Lalitha Sahasranama to seek guidance on the path to that divine abode.
Agathiyar, following Hayagriva's advice, arrived at the holy Manonmani Peetham, at Thirumeyachur. He recited the entire Lalitha Sahasranama, revealing the easy-to-understand version of the hymn for the benefit of ordinary people. This simplified version aimed to help even the common folk understand the power and significance of the Lalitha Sahasranama. Agathiyar's devotion and Hayagriva's guidance ensured that the divine hymn became accessible to all, including those less versed in scriptures.
Agathiya himself has promised that whoever recites the Lalitha Navarathna Malai will get all the prosperity and health and will get all the merits by the grace of Shiva-Shakti and will attain a bright life like the incomparable Navratna Mani.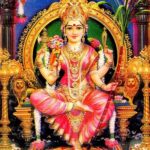 Lalitha Navarathna Malai Lyrics
Composed by: Sage Agathiyar
Genre: Devotional Stotram
Language: Tamil
Goddess: Lalithambikai
Singers: Various
Check out 'Lalitha Navarathna Malai Lyrics' here..
Kaapu
Gnaana Kaenachaa Charanam Charanam
Gnaana Skanda Charanam Charanam
Gnaana Sadhguru Charanam Charanam
Gnaanaananda Charanam Charanam
Aakkum Tholzhilain Tharanaatrra Nalam
Pookkum Nakaiyaal Buvaneshvaripaal
Cherkkum Navaraththina Maalaiyinai
Kaakkum Gananayaka Vaaranamae
1. Vairam
Katrum Theliyaar Kaade Kathiyaai
Kanmoodi Nedungana Vaanathavam
Petrum Theriyaar Ninaiyennil Avam
Perugum Pilzaiyaen Paesa Thakumo
Patrum Payira Padaivaal Vayirap
Pagaivarkkemanaaga Eduththavale
Vatraadha Arut Chunaiyae Varuvaai
Maathaa Jeya Oam Lalithaambikaiyae
2. Neelam
Moolak Kanalae Charanam Charanam
Mudiyaa Mudhale Charanam Charanam
Koalak Kiliyae Charanam Charanam
Kundraadha Oli Kuvaiyae Charanam
Neelath Thirumaeniyilae Ninaivaai
Nhinaivarreliyaen Nhinraen Arulvaai
Vaalaik Kumari Varuvaay Varuvaai
Maathaa Jeya Oam Lalithambigaiye
3. Muththu
Muththe Varummuth Tholzhilaartidave
Munninru Arulum Mudhalvi Sharanam
Viththae Vilaive Charanam Sharanam
Vedhaantha Nivasiniye Sharanam
Thaththaeriya Naan Thanayan Thaai Nee
Saagaadha Varam Tharave Varuvaai
Maththeru Thathik Kinaivaazhvadaiyaen
Maathaa Jeya Oam Lalithaambikaiye
4. Pavalam
Andhi Mayangiya Vaana Vidhaanam
Annai Nadam Seyyum Aananda Medai
Sindhai Nirampavalam Pozhi Paaro
Thaem Polzhilaamidhu Seidhaval Yaaro
Enhthayidaththum Manaththum Iruppaal
Ennubavarkkarul Enna Migundhaal
Manhthira Veda Mayapporulaanaal
Maathaa Jeya Oam Lalithambigaiye
5. Maanikkam
Kaana Kidaiyaa Kathiyaanavale
Karuthak Kidaiyaap Kalaiyaanavale
Poonak Kidaiyaap Polivaanavale
Pudhumai Kidaiyaap Pudhumaiththavale
Naanith Thirunamamum Nin Thudhiyum
Navilaadhavarai Naadadhavalae
Maanikka Olik Kathire Varuvaai
Maathaa Jeya Oam Lalithaampikaiyae
6. Marakatham
Marakatha Vadive Charanam Sharanam
Madhuridha Padhame Charanam Sharanam
Surapathi Paniyath Thikaizhvaai Sharanam
Sruthi Jathilayame Isaiye Sharanam
Arahara Chivaenratiyavar Kulzhuma
Avararul Peraarulamuthae Charanam
Varanhava Nhithiyae Charanam Charanam
Maathaa Jeya Oam Lalithaampikaiyae
7. Komedhakam
Poomeviya Naan Puriyum Seyalgal
Ponraadhu Payan Kundraa Varamum
Theemel Idinum Jeyashakthi Ena
Thidamaai Adiyaen Mozhiyum Thiramum
Komedhakame Kulirvaan Nilave
Kuzhalvaai Molzhiye Varuvaai Tharuvaai
Maamaeruvile Valarkoa Kilame
Maatha Jeya Oam Lalithambigaiye
8. Pathumaraakam
Ranjani Nandini Angkani Padhuma
Raaga Vilaasa Vyaapini Amba
Chanchala Roga Nhivaarani Vaani
Saambavi Chandra Kalaadhari Raani
Anjana Maeni Alangkrutha Poorani
Amrutha Swaroopini Nithya Kalyaani
Manjula Maeru Chirunga Nivaasini
Maathaa Jeya Oam Lalithaambikaiye
9. Vaidooriyam
Valaiyoththavinai Kalaiyoth Thamanam
Marulap Paraiyaaroliyoth Thavithaal
Nilaiyareliyaen Mudiyath Thagumo
Nikalam Thukalaaka Varam Tharuvaai
Alaivar Rachaivaatranuboodhi Perum
Adiyaar Mudivaazh Vaidooriyame
Malaiyath Thuvasan Magale Varuvaai
Maathaa Jeya Oam Lalithaambikaiye
Palasthuthi
Evar Eththinamum Isaivaaiy Lalithaa
Nhavaraththina Maalai Navindriduvaar
Avar Arpudha Shakthi Ellaam Adaivaar
Sivaraththinamaai Thigaivaarave
Comments
comments