November 12, 2020
Lalitha Pancharatnam Stotram Lyrics | Sri Adi Shankaracharya
Lalitha Pancharatnam Stotram Lyrics | Sri Adi Shankaracharya: Lalitha Pancharatnam Stotram is a devotional mantras composed by Sri Adi Shankaracharya about Goddess Lalitha Tripurasundari.
It is stated in the Phala Sthuti of this Stotram that those who reads these five stanzas in the morning extolling the mother Lalitha will be blessed with good luck, knowledge, fame and other good things by the grace of Goddess Lalitha.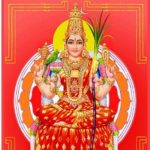 Lalitha Pancharatnam Stotram Lyrics
Genre: Devotional
Goddess: Lalitha Tripurasundari
Composed by: Sri Adi Shankaracharya
Singers: Various
Language: Sanskrit
Check out the lyrics here..
Prathah Smarami Lalithavadanaravindam
Bimbadharam Prathula Maukthika Shobhi Nasam
Aakarna Deerga Nayanam Mani Kundalaadyam
Mandasmitham Mrugamadojjwala Phala Desam
Pratharbhajami Lalitha Bhuja Kalpa Vallim
Rathnanguleeya Lasadhanguli Pallavadyam
Maanikya Hema Valayangadha Shobhamaanam
Pundrekshu Chapa Kusumeshu Sruneenrdadadhanam
Pratharnamami Lalitha Charanaaravindam
Bhakteshta Daana Niratham Bhava Sindhu Potham
Padmasanadhi Sura Nayaka Poojaneeyam
Padmankusa Dwaja Sudarshana Laanchanaadyam
Pratha Sthuthave Parasivaam Lalithaam Bhvaneem
Trayyanha Vedhya Vibhavam Karunanan Vadhyam
Viswasya Srushti Vilaya Sthithi Hethu Bhootham
Visweswareem Nigama Vang Mana Sathi Dhooram
Prathar Vadami Lalithe Thava Punya Nama
Kameswarethi Kamalethi Maheswareethi
Sri Shambhaveethi Jagatham Janani Parethi
Vagdeva Thethi Vachasa Tripureswareethi
Phala Stuti
Ya Sloka Panchakam Idham Lalithambikya
Soubhagyuam Sulalitham Patathi Prabhathe
Thasmai Dadathi Lalitha Jadithi Prasanna
Vidhyaam Sriyam Vimala Soukha Manantha Keerthim
Comments
comments