December 2, 2021
Mala He Dattaguru Disale Lyrics | Asha Bhosle
Mala He Dattaguru Disale Lyrics | Asha Bhosle: Mala He Dattaguru Disale is famous devotional song from the 1968 Marathi film 'Aamhi Jato Amuchya Gava', directed by Kamlakar Torne and written by Madhusudhan Kalelkar.
Aamhi Jato Amuchya Gava Marathi film features Uma Bhende, Suryakant Mandare, Dhumaal, Ganesh Solanki, Madhu Apte, Shrikant Moghe, and others.
The film was remade in Tamil as 'Moondru Deivangal [1971]' starring Sivaji Ganesan, Muthuraman and Nagesh. Its Hindi remake was named 'Teen Chor'.
Mala He Dattaguru Disale song was composed by music director Sudhir Phadke and sung by legendary playback singer Asha Bhonsle. Saregama is the music label of this film.
Dattatreya also known as Datta or Dattaguru, is a one of the lords of Yoga, venerated as a Hindu god. Datta Jayanti, [Dattatreya Jayanti], is a festival, commemorating the birth day celebration of Sadguru Dattatreya. Avadhuta Gita is a text attributed to Dattatreya.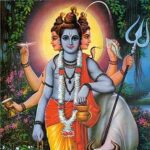 Mala He Dattaguru Disale Lyrics
Movie: Aamhi Jato Amuchya Gaava [1968]
Music: Sudhir Phadke
Lyrics: N/A
Singer: Asha Bhosle
Music Label: Saregama
Check out 'Mala He Dattaguru Disale Song Lyrics' here
Bramha Vishnu Aani Maheshwar
Saamori Basale Mala He
Dattaguru Disale
Mala He Dattaguru Disale
Maay Ubhi Hi Gaay Houni
Pudhe Vaasaru Paahe Valuni
Maay Ubhi Hi Gaay Houni
Pudhe Vaasaru Paahe Valuni
Kritajnjateche Shvaan Vichaari
Paayaawar Jhukale
Mala He Dattaguru Disale
Mala He Dattaguru Disale
Charan Shubhnkar Firatha Tumache
Charan Shubhnkar Firatha Tumache
Mandir Banale Ubhya Gharaache
Mandir Banale Ubhya Gharaache
Ghumata Madhuni Hriday Paakharu
Swaannde Firale Mala He
Dattaguru Disale
Mala He Dattaguru Disale
Tumhich Keli Saari Kimaya
Kritaarth Jhaali Maajhi Kaaya
Tumhich Keli Saari Kimaya
Kritaarth Jhaali Maajhi Kaaya
Tumachya Haati Maajhyaa
Bhawati Audumbar Vasale
Mala He Dattaguru Disale
Mala He Dattaguru Disale
Mala He Dattaguru Disale Lyrics in Hindi
ब्रम्हा विष्णू आणि महेश्वर
सामोरी बसले
मला हे दत्तगुरु दिसले
मला हे दत्तगुरु दिसले
माय उभी ही गाय होऊनी
पुढे वासरू पाहे वळुनी
माय उभी ही गाय होऊनी
पुढे वासरू पाहे वळुनी
कृतज्ञतेचे श्वान विचारी
पायावर झुकले
मला हे दत्तगुरु दिसले
मला हे दत्तगुरु दिसले
चरण शुभंकर फिरता तुमचे
चरण शुभंकर फिरता तुमचे
मंदिर बनले उभ्या घराचे
मंदिर बनले उभ्या घराचे
घुमटा मधुनी हृदयपाखरू
स्वानंदे फिरले
मला हे दत्तगुरु दिसले
मला हे दत्तगुरु दिसले
तुम्हीच केली सारी किमया
कृतार्थ झाली माझी काया
तुम्हीच केली सारी किमया
कृतार्थ झाली माझी काया
तुमच्या हाती माझ्या
भवती औदुंबर वसले
मला हे दत्तगुरु दिसले
मला हे दत्तगुरु दिसले
Comments
comments