September 22, 2020
Muddu Bhairava Swamy Uri Gadduge Song Lyrics | Ananya Bhat
Muddu Bhairava Swamy Uri Gadduge Song Lyrics | Ananya Bhat: Muddu Bhairava Swamy Uri Gadduge Yeruvaaga is a Kannada Folk Devotional [Janpada Bhakthigeethe] song about Lord Bairava Swami.
Lord Bhairava is a Tantric deity worshiped by Hindus. He is believed to be a fierce manifestation of Lord Shiva. He is worshiped throughout India, Nepal and Sri Lanka as well as in Tibetan Buddhism. Tamil Nadu has the largest number of Kala Bhairava temples in India.
In Karnataka, Kalabhairaveshwara Temple of Adichunchanagiri is very famous. Sri Kalabhairaveshwara is the Kshetra Palaka of Sri Adichunchanagiri Mahasamsthana Matt. Adichunchanagiri is a hill township in Nagamangala Taluk, Mandya District.
This folk devotional song was sung by various artists and with different versions with slight change in the lyrics. In a recent event Sojugada Sooju Mallige fame playback singer Ananya Bhat rendered this song.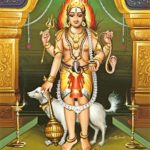 Song: Muddu Bhairava Swamy
Genre: Devotional / Folk
Lord: Bhairava Swamy
Music: Folk
Lyrics: Folk
Singer: Folk / Ananya Bhat
Check out the lyrics here..
Muddu Bhairava Swamy Uri Gadduge Yeruvaaga
Siddara Shiva Matake Belagaado Kolanna Kole
Muddu Bhairava Swamy Uri Gadduge Yeruvaaga
Siddara Shiva Matake Belagaado Kolanna Kole
Siddara Shiva Matake Belagaado Kolanna Kole
Siddara Matadalli Swamiya Kandeera..
Siddara Matadalli Swamiya Kandeera
Sampige Banada Neralalli Kolanna Kole
Sampige Banada Neralalli Kolanna Kole
Sampige Banada Neralalli Bairava
Sampige Banada Neralalli Bairava
Navilonda Kunisuva Parinoda Kolanna Kole
Navilonda Kunisuva Parinoda Kolanna Kole
Muddu Bairava Swami Uri Gadduge Yeruvaaga
Siddara Shiva Matake Belagaado Kolanna Kole
Siddara Shiva Matake Belagaado Kolanna Kole
Hattamaarathagirya Hatthuttha Bairava
Hattamaarathagirya Hatthuttha Bairava
Hejjejegu Kinnuri Nudisutha Kolanna Kole
Hejjejegu Kinnuri Nudisutha Kolanna Kole
Hejjejegu Kinnuri Nudisutha Bairava
Hejjejegu Kinnuri Nudisutha Bairava
Vaalaagi Kunthavne Giri Mele Kolanna Kole
Vaalaagi Kunthavne Giri Mele Kolanna Kole
Muddu Bhairava Swami Uri Gadduge Yeruvaaga
Siddara Shiva Matake Belagaado Kolanna Kole
Siddara Shiva Matake Belagaado Kolanna Kole
Sanna Malligeya Hudkondu Bairava
Sanna Malligeya Hudkondu Bairava
Nithyavu Poojege Bartheevi Kolanna Kole
Nithyavu Poojege Bartheevi Kolanna Kole
Muddu Bhairava Swamy Uri Gadduge Yeruvaaga
Siddara Shiva Matake Belagaado Kolanna Kole
Siddara Shiva Matake Belagaado Kolanna Kole
Comments
comments